For the long life of honey, married women keep fast, know auspicious time, worship method and importance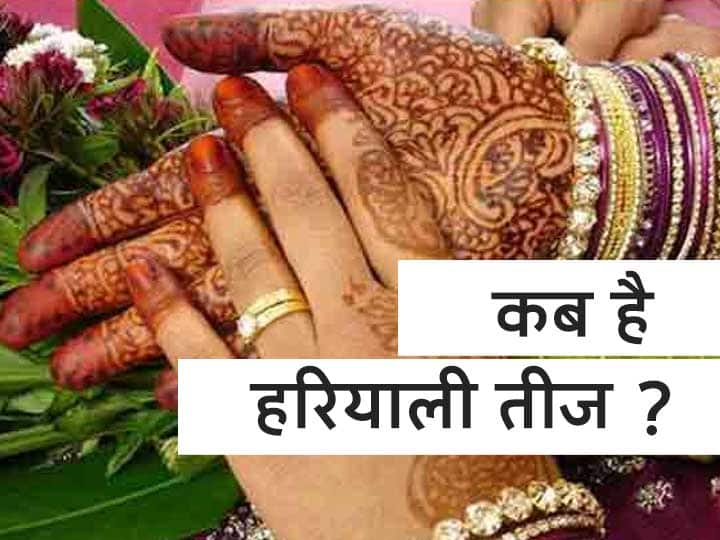 Hariyali Teej 2021: Hariyali Teej has special significance in Hinduism. According to the Hindu calendar, the fast of Hariyali Teej is observed on Tritiya Tithi of Shukla Paksha of Shravan month. On this day, married women keep a fast for the long life of their husbands. At the same time, she also wishes her husband to be healthy.
On this day women worship Lord Shiva and Goddess Parvati. It is said that Lord Shiva and Parvati were reunited on the day of Hariyali Teej. That is why it has great importance for the married people. This fast is done Nirjala and this fast is considered difficult. Please tell that due to falling in Sawan, it is also called Shravani Teej.
Significance and auspicious time of Hariyali Teej
It is believed that by worshiping Shiva and Mother Parvati on this day and keeping a fast, one gets the boon of unbroken good fortune. There is happiness, peace and prosperity in the house. It is also believed to get the blessings of the husband to be healthy. Therefore, women perform this fast with full rituals by doing sixteen adornments. On this day women worship Lord Shiva and Parvati by wearing green clothes, doing sixteen adornments.
Hariyali Teej 2021 is falling on Wednesday, August 11. This Tritiya date of Shukla Paksha of Shravan month will start from 06.11 pm on Tuesday, 10 August, 2021, Tritiya date will remain till 04:56 pm on Wednesday, 11 August 2021.
fasting and worship
On the day of Hariyali Teej, the fast should wake up in the morning and be clean after taking bath etc. And after wearing the clothes that came from the maternal home, take a vow of worship in the mind. On this day the house should be cleaned and decorated well. Before starting the puja, make an idol of Shivling, Lord Ganesha, Mata Parvati and their friends by mixing Gangajal in the soil at a post. After this, decorate the contents of honey in a plate like bindi, vermilion, bangle, henna, nail polish, akshat, incense, lamp, sulfur etc. and offer it to Goddess Parvati.
Offer cannabis, datura, akshat, bel leaves, white flowers, sulfur, incense, clothes etc. to Lord Shiva. After this, listen to the story of Hariyali Teej while worshiping Ganesh ji. Then worship Lord Shiva and Mother Parvati. The fast and worship of Hariyali Teej continues throughout the night. During this, women also do Jagran and Kirtan.
.