Gauges, masks, telework: what changes and what is maintained in the health protocol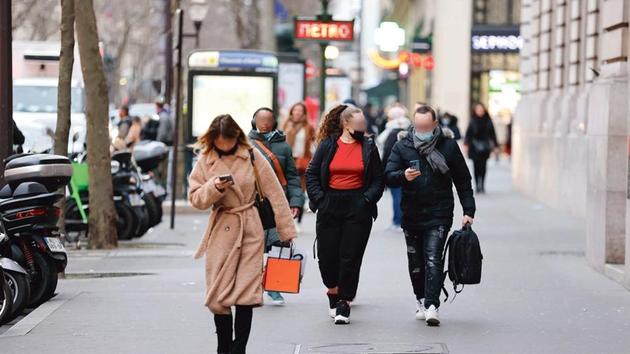 Authorities are letting go as the Covid-19 epidemic ebbs, but are waiting to speed up the schedule.
Vaccination pass
Since February 15 for those over 18, the vaccination booster must be carried out between 3 and 4 months after the second injection, whereas a delay of 7 months was tolerated until then. Concretely, people who did not do a reminder and who took their second dose before October 15 saw their vaccination pass invalidated on Tuesday. The General Directorate of Health estimates that less than 4 million the number of people who "are likely to lose their vaccination pass if they do not make an appointment quickly". The document "can be reactivated once the person has done their vaccination reminder"she says.
Two other documents are accepted to obtain the sesame: a certificate of recovery from Covid dating back at least 11 days and less than 4 months or a certificate of medical contraindication to vaccination. On the other hand, an infection is now equivalent to a dose, provided that it occurred more than 15 days after the first injection (it then acts as 2and dose) or more than 3 months after the second injection.
Read alsoGérald Kierzek on the end of health restrictions: "I fear a spontaneous generation of hypochondriacs"
The vaccination pass is necessary for anyone over the age of 16 to access places of leisure and culture (cinemas, museums, sports halls, libraries, etc.), commercial catering activities (cafes and restaurants, including terrace) or trade fairs and shows, interregional transport, tourist accommodation and ski lifts in ski resorts. On the other hand, entry into a healthcare establishment is subject, for accompanying persons and visitors, to a simple health pass (incomplete vaccination respecting certain deadlines, negative test less than 24 hours old or positive PCR test dating from at least 11 days and 6 months maximum).
SEE ALSO – Gabriel Attal evokes a possible end of the vaccine pass from "end of March, beginning of April"
Wearing a mask
Since February 2, wearing a mask is no longer compulsory outside, but it remains in force inside. The next reduction in this barrier measure is scheduled for February 28: from this date, the mask will no longer be compulsory in closed places subject to the vaccination pass. It will however remain maintained in transport (metro, bus, etc.) and closed places not subject to the pass (at work, for example). Outside, the device remains recommended in the event of a group of people with a high density.
SEE ALSO – "One pass, no mask": Gabriel Attal confirms the end of wearing a mask in closed places subject to the vaccine pass
Testing and isolation
A relaxation of the screening rules is planned from February 28. People who have had contact with an individual who tested positive will only have to perform a single test (self-test, antigen test or RT-PCR) two days after receiving the information, instead of three tests today ( at D+0, D+2 and D+4). In the case of a positive self-test, the person will have to do an antigen test or a confirmatory RT-PCR test. The isolation rules remain unchanged.
In company
In companies, the noose of the health protocol is loosening very gradually. The document drawn up by the Ministry of Labor after consultations with the trade unions and employers' organizations (and the final version of which will be put online this Wednesday) records, for example, the return of… pots to the office. A change that is certainly marginal but which gradually confirms the return to normal for employees in France. Until then "suspended"these moments of conviviality can now "be organized in strict compliance with barrier gestures, in particular the wearing of a mask, ventilation measures, ventilation and the rules of distancing".
Read alsoTelecommuting: companies are still looking for the right tempo
The government is also providing a little more flexibility regarding face-to-face meetings and now recommends that people at risk of a serious form of Covid wear an FFP2 mask in the workplace. On the other hand, no change on the telework front. The protocol recalls that since February 2, the use of this mode of organization is "recommended" and no longer mandatory, as was the case before. Freedom is therefore given to employers to set themselves, within the framework of internal social dialogue, the methods of recourse to telework.
End of gauges, reopening of nightclubs
This Wednesday, February 16, nightclubs (closed since December 10) can reopen, standing concerts can resume and consumption is again possible in stadiums, cinemas, transport, as well as standing in bars. The gauges were lifted on February 2 in establishments welcoming the seated public (stadiums, concert halls, theaters, etc.).
School health protocol
The health protocol in schools will be lightened when each zone returns to school, on February 21 for zone B, February 28 for zone A and March 7 for zone C. Primary schools will then move to level 2 of the device: wearing a mask will no longer be compulsory outside, indoor sport can resume without a mask, with the exception of contact sports, and mixing in the canteen will be limited by level and no longer by class.
Read alsoCovid-19: a lighter protocol in schools after the holidays
The sworn statement certifying that the child has indeed carried out a self-test will no longer be required. From February 28, if a student falls ill, his classmates will have to carry out a self-test on D + 2, and not three tests. According to the Minister of Education, Jean-Michel Blanquer, children should be able to remove the mask inside "before the end of the school year".
SEE ALSO – Why 2022 could be the year Covid ends
.