Hanuman Jayanti 2022: When is Hanuman Jayanti after Ram Navami, know the auspicious time of worship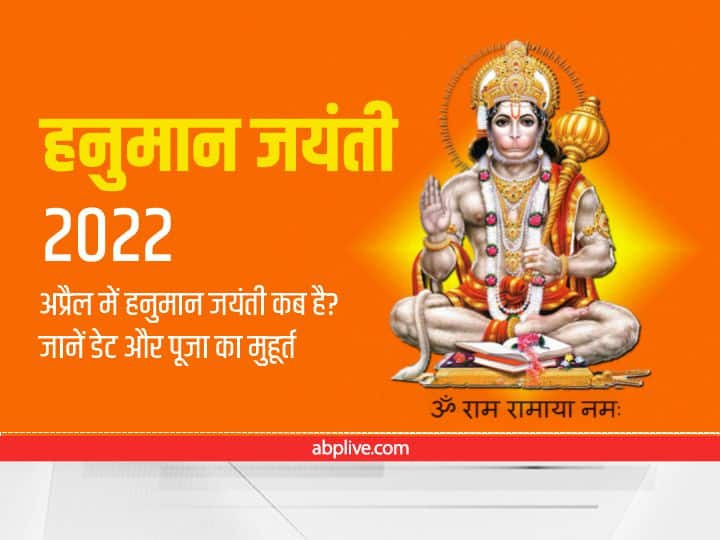 Hanuman Jayanti 2022: According to the Panchang, the festival of Hanuman Jayanti will be celebrated on the full moon day of Chaitra month. This year the full moon date of Shukla Paksha of Chaitra month is falling on 16th April. This day will be celebrated as Hanuman Jayanti. At this time the festival of Navratri (Navratri 2022) is going on. Ram Navami (ram navami navratri 2022) is celebrated on 10th April. After this the festival of Hanuman Jayanti will be celebrated.
When is Hanuman ji's birthday 2022
There is a tradition of celebrating the full moon day of Chaitra Shukla as the birthday of Hanuman ji. To get the blessings of Hanuman ji, the day of Hanuman Jayanti is considered very best. On this day religious events are organized all over the country. Hanuman devotees keep a fast on this day and do special worship of Hanuman ji.
Hanuman Jayanti 2022 Date and Muhurta (Hanuman Jayanti 2022 in India)
According to the Panchang, this year the full moon date of Chaitra month is starting on Saturday, April 16, at 02 am 25 minutes. Purnima Tithi ends on this day at 12.24 pm. At the time of sunrise, the full moon date is being received on 16 April, so Hanuman Jayanti will be celebrated on 16 April.
Shani Dev: Sagittarius is going to get freedom from this state of Saturn after seven and a half years, two other zodiac signs will also get relief
Auspicious yoga is being made on Hanuman Jayanti
According to the calculation of Panchang, this year Ravi Yoga is being formed on Hanuman Jayanti. In the scriptures, this yoga is considered to be the best for completing any work. Ravi-Yoga is considered to be an effective yoga due to the special effect of the Sun. This is the reason that due to being full of the holy energy of the Sun, the chances of getting failure in the work done in this yoga are very less. According to the Panchang, on this day i.e. on April 16, Hasta Nakshatra is up to 08:40 in the morning. After this Chitra Nakshatra will start. On this day Moon will transit in Virgo.
Worship method on Hanuman Jayanti
Hanuman ji was born at sunrise. Therefore, it is considered good to worship in Brahmamuhurta on the day of Hanuman Jayanti. On this day, the things dear to Hanuman ji should be offered. Hanuman Chalisa, Sundarkand and Hanuman Aarti should be recited on this day.
Disclaimer: The information provided here is based on assumptions and information only. It is important to mention here that ABPLive.com does not endorse any kind of belief, information. Before applying any information or assumption, consult the concerned expert.
Horoscope April 2022: In April, these zodiac signs may get tough challenges in terms of money, know economic horoscope
,