Hariyali Teej 2021: Know the auspicious time of Hariyali Teej fast, method of worship and importance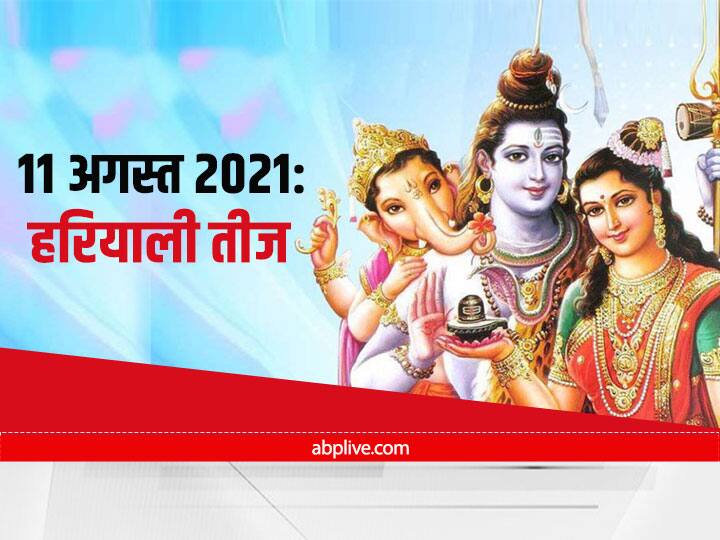 Teej Festival 2021: According to the Panchang, August 11, 2021, Wednesday is the third date of Shukla Paksha of Shravan month. The Tritiya Tithi of Shravan Shukla is known as Hariyali Teej. The festival of Hariyali Teej is one of the most favorite festivals of women. By keeping a fast on this day, married women pray for the long life of their husbands. Women do sixteen makeup on Hariyali Teej.
Importance of Hariyali Teej
There is a law to keep fast on Hariyali Teej. This fast is also called Nirjala Vrat. The fast of Hariyali Teej is considered to be one of the most difficult fasts. Special merit is obtained by this fast. This fast makes married life happy. Lord Shiva and Mother Parvati are worshiped in this fast. This is a special festival of the month of Sawan, which is dedicated to married women.
Auspicious time for Hariyali Teej fast
The fast of Hariyali Teej should be done according to the method, only then the full fruit of this fast is obtained. Special care should be taken of the auspicious time in the worship of this fast. According to the Panchang, the festival of Hariyali Teej will be celebrated on 11 August 2021, Wednesday. But the date of Tritiya will start from 06.11 pm on Tuesday, August 10. Tritiya Tithi will end on 11th August 2021, Wednesday at 04:56 pm.
worship method
The festival of Hariyali Teej will be kept on Wednesday, August 11. On this day, wake up early in the morning and take a bath. Wear clean clothes. There is a tradition of wearing clothes that came from the maternal home on this day. After that take a vow of fasting. Sixteen makeup also has special significance on Hariyali Teej. On this day the house should be cleaned and decorated well. Before starting the puja, make an idol of Shivling, Lord Ganesha, Mata Parvati by mixing Ganga water in the soil at a post. After this, offer the ingredients of honey in a plate by decorating it with bindi, vermilion, bangle, mehndi, nail polish, akshat, incense, lamp, sulfur etc. Lord Shiva should offer his favorite things. Perform aarti to Lord Shiva and Mother Parvati.
Read also:
Chandra Grahan 2021: These zodiac signs will have to take care of money and health on the lunar eclipse, know the horoscope
Sawan 2021: If you see these things in your dreams in the month of Sawan, understand that the blessings of Lord Bholenath are going to rain.
.