Healthy Fruits and Nuts Chia Salad, Squeeze Hunger, Lose Weight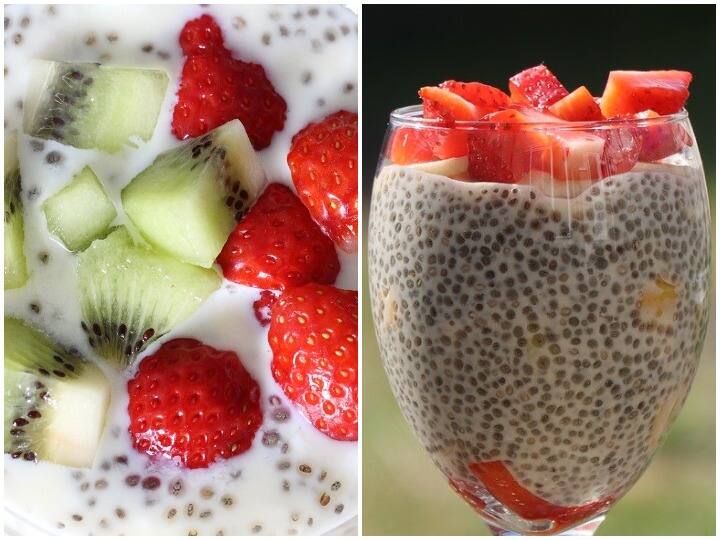 Healthy Snacks Recipe: Whenever we feel hungry during snacks, our mind tends to eat something unhealthy, this is a big reason for weight gain. Today we are telling you to make such a healthy snack, which will not increase your weight and your health will also be good. Yes, we are talking about Fruit and Nuts Chia Salad. Eating this salad will also satisfy your hunger and it is also a healthy option for you. Chia seeds are rich in omega-3 fatty acids. It is also rich in fiber and protein. Rich in antioxidants are found in papaya and pomegranate. This will keep your skin and internal health good. Know the recipe of salad made from chia seeds and dryfruits from Shilpa Shetty.
1 First of all take a nonstick pan.
2 Now add 3 spoons of jaggery sugar in it and stir it after adding very little water.
Now add chopped pistachios and almonds to it.
4 Now spread these dry fruits in a plate.
5 Now let's make chia seeds mix.
6 For this, 1 cup cold coconut milk is needed.
7 Now add 3 spoons of chia seeds to it.
8 Now add 2 teaspoons of maple syrup or honey to it.
Add tsp vanilla essence and tsp cinnamon powder.
10 Now mix all these things well in a bowl.
11 Keep this whole mixture outside for the whole night to bloom. After that keep it in the fridge for some time.
12 Take a smoothie jar or glass, first put chopped papaya in it.
13 Add a layer of chia seeds mix on top.
14 Then add a layer of another fruit like kiwi in it and again add a layer of chia seeds.
15 Then you add a layer of fig fruit in it, if you want, you can also use figs with soaked dry fruits.
16 You put a layer of banana in it and again add a layer of chia seeds coconut milk on top.
17 Put some pomegranate seeds on top.
18 On top of this you have to put roasted almonds and pistachios which we roasted first.
19 You can add any fruit according to your choice and season in this chia fruits salad.
20 A treasure of taste and health, Chia Seed Fruit and Nut Salad is ready.
Also read: Make banana, jaggery and flour malpuas on Rakshabandhan, learn recipe from Shilpa Shetty
.