Horoscope 09 August 2021: Cancer, Libra and Aquarius should not do this work, know the horoscope of 12 zodiac signs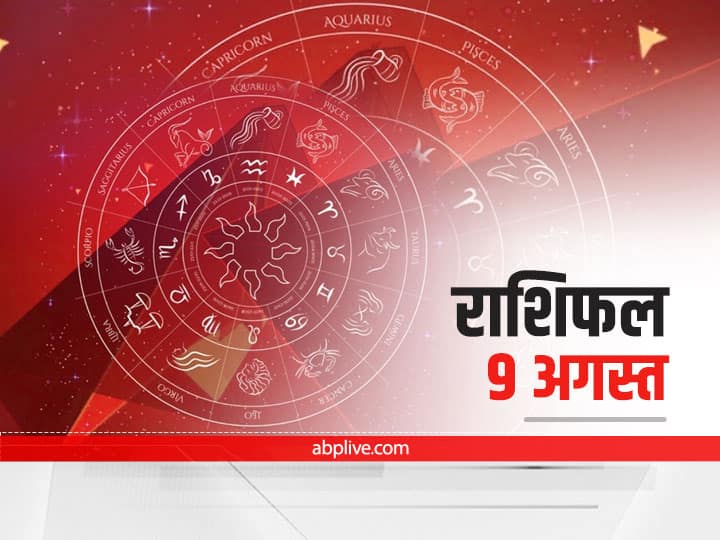 Horoscope Today 09 August, Aaj Ka Rashifal, Daily horoscope: According to the Panchang, 09 August 2021, Monday is the Pratipada date of Shukla Paksha of Shravan month. Shukla Paksha is starting from today. Moon is present in Cancer sign. Today the movement of planets is affecting all the 12 zodiac signs. Know horoscope.
Sheep- Positive changes will be beneficial for you in today's day. Put your energy in the right direction. Complete the pending work and if you are leading a team, then keep a close watch on the work of the subordinates. Increase phone contact with colleagues to target-based workers. Do not blindly trust your colleague in business partnership. Laziness can become a hindrance for the youth. Need to increase focus. Youth should not delay unnecessarily in important works. There may be headache, fever in health. Be alert, trouble may increase. Maintain good relations with neighbors. Can go to each other's house for food.
taurus- On this day, understand the value of your words and thoughts. This will create new opportunities. Do not take stress about old things about job or work. Keep yourself fit and mind active. If you are a teacher, then the day is for introspection. Merchants will get good profit for those running medical goods or general stores. If youth are working online, keep data secure, they can be vulnerable to hackers. Chronic health related problems may increase. Do not ignore shortness of breath or chest. In view of the pandemic, carelessness is not right. To keep the strings of relationships strong, don't let trust be lost.
Gemini- Today your warm behavior will make work and challenges favorable. There will be an opportunity to get new achievements in the field of work. One should always learn something new. Take the words of the boss seriously, otherwise you may have to face anger. Merchants will have to work according to the enthusiasm and liking of the customers. If the youth want to go out for higher studies, then soon opportunities will be created. The day will be normal in health, on the other hand, be careful about the epidemic. Increase cooperation with family members. There are full possibilities of getting success in the field of career for the child.
Cancer- On this day, if the deteriorating situation seems out of control, then do not lose faith. A little wait will be worthwhile for the purchase and sale of land or house. People working in marketing or finance may have to struggle for the target. There is a need to increase the focus on performance. If you are doing business of utensils or metal, then do not get discouraged, the conditions are to be favorable in future. It will be beneficial for the youth to use the free time in knowing and understanding difficult subjects. Physical fatigue, weakness may be felt in health, keep food and drink balanced. Friends, neighbors will become helpful in financial matters.
Lion- Today, there is a need to change the old rules to complete the work better. Take only those tasks in hand, which are skilled and skillful in completing them. If the mind is troubled then it is beneficial to meditate on Hanumanji. There will be encouragement of senior people in the workplace and in the job. There is a possibility of getting a promotion in the job. Retail traders will get benefit. Avoid excessive greed while taking decisions. Stomach or respiratory problems may increase due to health. If any kind of help is needed, it will be beneficial to request the brothers and sisters. One can also go for a walk with family or friends.
Virgo- You need to be calm today. You will get peace of mind. Everyone should be treated equally. Meditate on the Guru, if possible serve the cow. There is a need to work in coordination with the boss, complete every task given by him efficiently. Opponents may try to spoil the position. Those doing transport related work in business will have to take care of the customers, follow the government rules and regulations. At present, the conditions of the planet are indicating profits. Be alert in health. Avoid eating chili masala and heavy food. A family member may suddenly fall ill.
Libra- On this day, do not let the confidence decrease on the strength of high morale, focus will have to be in doing hard work. Karma is stronger than luck. Keep the objective to acquire knowledge related to the field of work. Best wishes of class IV employees will come in handy, don't annoy pune, driver etc. The business class may suffer financial injury, do it wisely. Pregnant women should be careful in health. There is a possibility of increase in domestic happiness resources, on the other hand, if you have forgotten to give back someone's money, then you can start the process of returning it from today.
Scorpio- Today there will be cooperation from friends and family in all work. There is a need to be careful during the meeting at the workplace, the boss may get angry. If you are working in a government department, then the officers will be happy with the performance. Hardware businessmen have a good chance of profit. Take care of old customers. Will bring new customers along with profit. Retailers need to bring variety in the product. There is a possibility of swelling, pain in the legs. Increase immunity-boosting foods. Use medicines sparingly or only after consulting a doctor. In practice, there is a need to control anger and bitter speech.
Sagittarius- Making rapport with others on this day can become both your compulsion and strength. Workload will increase stress. You should be ready for this, you will be successful in the office on the strength of patience and hard work. There is a possibility of profit for the clothing merchants. If you are working in partnership, then there has to be transparency about the transaction. If you want to go out for higher education, then the effort will be successful. You can stay healthy by changing the routine. Along with good diet, regular exercise has to be made a habit. The talk of marriage of marriageable people in the family can get louder.
Capricorn- Remember Bholenath this morning, you will get the desired result, peace of mind. The energy received from this will make every bad work. There can be stress for the job seekers. Bosses can evaluate on the basis of past experiences. In terms of business, people related to real estate can get success, there is a possibility of contact or meeting with big buyers, it is making big gains. Considering the future benefits, leave the greed of the present. Asthma patients be careful in health. If there is a dispute with the father or elder brother in the family, then go ahead and solve it yourself.
Aquarius- Stay away from negative thoughts and people on this day. Family and office should work everywhere with the spirit of cooperation and affection. Avoid interference in the work of colleagues. Do not give air to the growing controversies. It will be effective to resolve disputed issues with dialogue. Businessmen will make good profits from good sales of electronic goods. The youth is advised not to share secret things with anyone. One needs to work towards making music, singing or any art as a career. There is a stomach problem in health. So be alert. Circumstances will become difficult due to family dispute.
Pisces- On this day, wisdom and courage will be appreciated everywhere. Keep yourself restrained while speaking your mind and avoid substandard facts. In the meeting or discussion among the family, your words will get full importance. There can be tension with colleagues in the office, stay away from unnecessary disputes. People associated with the medical field are having a good time. The youth preparing for the competition should focus a little more. People will have to be made aware of the epidemic in health. Orthopedic patients may face pain. Try to keep the atmosphere of the house calm. In case of dispute, take the initiative and get it settled.
Read also:
Transit 2021: Transit of Mercury in Leo, profit in job-career and business can give big trouble in this matter, know horoscope
Surya Grahan 2021: Lord Krishna saved Arjuna's life due to solar eclipse, killed Jayadratha
Shradh 2021: When is Pitru Paksha starting? Know the date and date from Poornima Shradh to Sarva Pitru Amavasya
Economic Horoscope August 9, 2021: Taurus- Libra zodiac sign be careful, know the horoscope from Aries to Pisces
Chanakya Niti: Youth should stay away from these bad habits, these habits become a hindrance in achieving the goal, know Chanakya Niti
Dussehra 2021: When is Dussehra? Know auspicious time and importance according to Panchang
Devuthani Ekadashi 2021: When is Devuthani Ekadashi? Know auspicious time and importance
.