Horoscope 31 July 2021: Cancer, Sagittarius take care of health and wealth, know the horoscope of 12 zodiac signs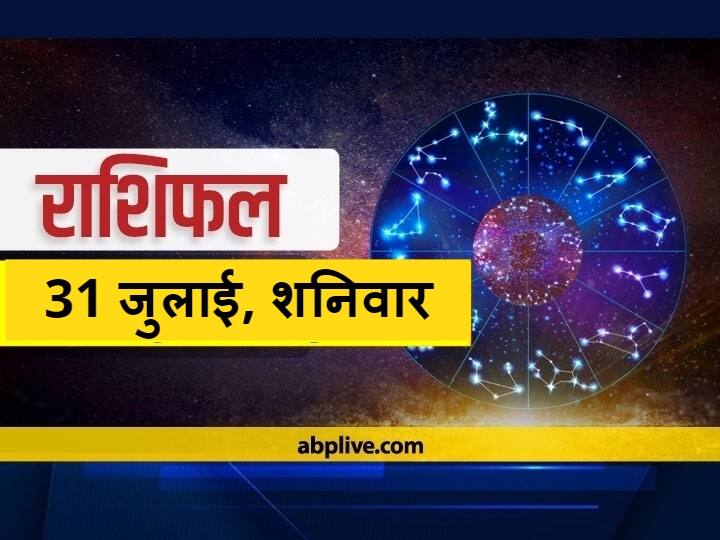 Horoscope Today 31 July 2021, Aaj Ka Rashifal, Daily horoscope: 31 July 2021, Saturday is a special day for people from Aries to Pisces. Today is the seventh day of Krishna Paksha of Sawan i.e. Shravan month. Today Moon is transiting in Aries. Know today's horoscope of 12 zodiac signs.
Aries Horoscope- Keep yourself away from mental stress today. There will be many good opportunities to run on the path of progress. Increase focus in office work. Complete the assigned responsibilities on time. People of the banking sector will get the desired benefit. Traders will need to take some careful steps. Opportunities are being created for the youth who want to study abroad. Any foreign gift can also be received. Health will have to be alert to the change in weather. Can be vulnerable to viral, dengue or malaria etc. Take care of the needs of the family members at home. The relationship of marriageable people will be firm.
Taurus Horoscope- Maintain focus on job and business today. Small profits will also act as a relief in the economic situation. Adopt a cooperative attitude with the employees at the workplace. You can get a big responsibility soon. You can get a job offer again from the old company. Telecommunication traders will make good profits. The youth will have to increase the focus for the career progressing field. Conditions are opposite regarding health, in such a situation, those who have problems related to sugar should be openly alert, do not take any carelessness in routine and already running medicines. The child will get success in the field of career.
Gemini Horoscope- Today the whole day will be stress free. Give time to family, the day will be spent in fun and entertainment. If there is any debt or borrowing stuck for a long time, then you can start the process of repayment. Try to complete office work on time. The workload for traders seems to be increasing. A slight change in the staff and style of work can give you the desired benefits. The day will be full of success for the youth. Do not be careless about the epidemic regarding health. Be alert in case of infection. Changes in routine will be beneficial. There will be happiness by fulfilling the expectations of the child.
Cancer Horoscope- On this day, the respect of a Guru and a person like Guru will take you on the path of success. Planetary positions can increase your expenses, be careful about it. Be prepared for multitasking in the office as well. Traders will have to plan for capital investment. Transparency will be necessary to maintain investor confidence. Today you have to be very careful about the health of children. Epidemic and infection can cause concern regarding health, on the other hand, there is a possibility of an accident while driving a vehicle with a little care. The father may get angry on the violation of rules in the house. Avoid the situation of estrangement.
Leo Horoscope- Today, dedication towards work will have to be shown. Developing a calm demeanor will attract people around. A strong mindset has to be shown towards the challenges. Follow the rules in the office, do not do any such work, which is bad in the eyes of the boss. Financial loss can cause big problems for the traders. The youth will get a chance to take their career to a new dimension. Students will get full results of hard work. If the day is going to be favorable regarding health, then there will be a need to strictly follow the routine. Spend time with friends and some relatives, you will definitely get benefit.
Virgo Horoscope- On this day, you will have to run more to do some important work related to job and business together. If any government work is stuck, complete it today. Increase contact with new people, then only you will get benefit. If you are doing clothing business, then definitely display new items. Treat customers well. Thyroid patients have to be careful. Insomnia can be a problem in health. Organize the routine, there is also a need for awareness regarding the food. Today old friends can be met, the mind will get happiness by talking to the family members who are away even in the family.
Libra Horoscope- Try to keep the behavior soft on this day, sharp behavior can drive away loved ones. Be aware of behavior. Haste will be harmful in new relationships. It will be beneficial to work according to the advice of seniors. Everyone will get cooperation in the office. The business class will be able to earn good profit from mutual coordination, there will be a need to give priority to the preferences of the customers. Especially follow the youth rules. Arthritis patients may have to deal with pain regarding health. Do not ignore medicine or massage. You will have participation on important issues in the family. Respect your spouse.
Scorpio Horoscope- Keep yourself full of positive energy today. Today is a special day, so you can get gifts from loved ones. It will be harmful to blindly trust anyone for work. There is a possibility of traveling to other cities for office work. If you are associated with the food industry, special care will have to be taken on the quality of the goods. There is a possibility of a government inquiry etc., there are possibilities of fines for deficiency. People who use more TV, mobile or laptop, they may have problems related to eyes. Try to settle old family disputes, discussion about this will be beneficial.
Sagittarius Horoscope (Sagittarius Horoscope)- The mind can remain sad today, the way to avoid it is to do your favorite work and stay positive. The people associated with the media need to be alert. The day will be auspicious for retail traders. Big profits are likely. The youth will get positive encouragement from the teacher. Students must be aware of the practice given by the teachers. In the event of an accident, there may be an injury due to a fall. Be careful when descending and climbing stairs. There can also be concern about the health of the mother, there is a possibility of decline. Try to make the family atmosphere pleasant with cooperation.
Capricorn Horoscope- Today some challenges will increase the problems. With hard work you will be able to get success. Success will also come in future plans. There will be uniformity in religious work with the help of family members. There can be tension with the boss about something. The day is good for iron merchants, there will be good profits in the business of hotels and restaurants. Be aware of minor ailments in health, get immediate treatment. Mistakes can also be dangerous towards epidemics. In the house, advise siblings to be patient and work with focus. Unnecessary arguments with big people can create a difficult situation.
Aquarius Horoscope- Avoid unnecessary anger on this day, it can be harmful. Today you should try to listen to others before speaking yours. The work done through planning will be successful. Don't let unnecessary debates take place in the workplace. The mind will be happy due to the strong financial condition. There seems to be a good profit situation in business. Teach young children to live with discipline. The day will be good regarding health, so keep the routine there regularly and try to leave the bed early in the morning. Give some time at home and give respect to father or equivalent persons. The interaction will increase.
Pisces Horoscope- Some hard decisions on this day can hurt the feelings of others. If you are moving forward to add new relationships, then there is a need to stop for a while and think seriously. Caution has to be maintained regarding office work. Monitor team performance. Do not make big investments in business now, there is a possibility of legal action. The youth trying for a government job may have to wait a little longer. Make sure that all papers are standard compliant. It will be beneficial to keep distance from alcohol and cigarettes. If you are taking a big decision, then proceed only after taking advice from your father or elder brother.
Read also:
Economic Horoscope 31 July 2021: Be careful in business with Gemini and Libra, know the horoscope of all zodiac signs
Surya Grahan 2021: Two planets will be set at the time of solar eclipse, know when the last eclipse of the year is happening
Aaj Ka Nakshatra: Ashtami date and Ashwini Nakshatra will be on 31st July, know today's fast
.