If you want to eat sweet, then make banana barfi at home like this, know the recipe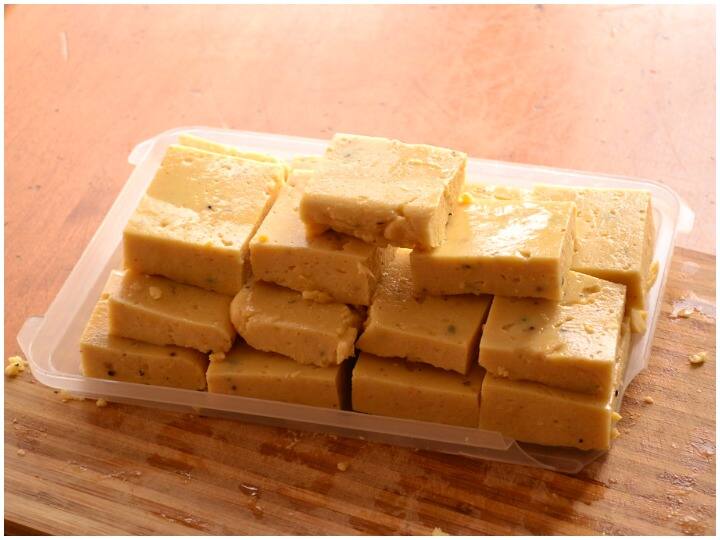 Banana Barfi Recipe: Many people are fond of eating sweets, but sometimes eating outside sweets harms your health. That's why you should make sweets at home. By the way, you must have made many sweets at home. But today we are going to tell you about such a sweet, about which you might be hearing for the first time. Yes, today we will tell you how to make Banana Barfi.
You can prepare it in a very easy and quick way. At the same time, it is also very tasty to eat. Let's know again the recipe of making Banana Barfi.
Ingredients for making Banana Barfi-
5 ripe large bananas, 2 spoons of ghee, half a cup of milk, a cup of coconut, one cup of sugar, half a cup of walnuts, quarter spoon cardamom powder, one spoon chopped almonds.
Recipe to make Banana Barfi-
To make Banana Barfi, first mash the banana well, after that now add milk to the mashed banana in a pan. And now keep the mixture on low flame to cook. After this, when all the milk from the mixture dries up, then turn off the gas. After this, heat ghee in another pan. Add banana mixture to it, keep stirring and fry it, after that when the mixture turns brown, add sugar, walnuts, grated coconut and cardamom powder to it. After this, now take a plate and apply ghee in it and spread the banana mixture on that plate. After this, after decorating it with almonds and walnuts, cut the barfi into your favorite shape after two hours.
read this also-
Kitchen Hacks: Eat Oats and Sattu Upma to Lose Weight Fast, Learn How to Make it
Kitchen Hacks: If you feel like eating something spicy in snacks, then try Spring Roll, know the recipe
,