If you wear a cloth mask, you can become infected with Omicron in just 15 minutes!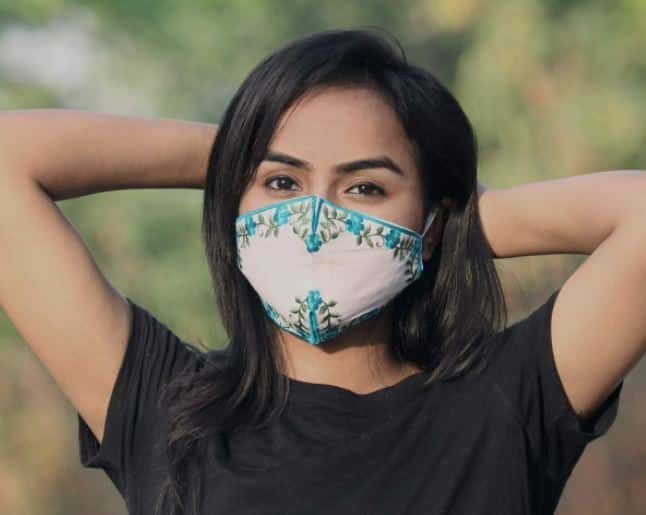 Omicron Safety Mask: The cases of Omicron, the new variant of Corona, are spreading very fast in India. Due to the mild symptoms of Omicron and the carelessness of the people, the number of infected people is increasing day by day. Doctors are appealing to the people to follow the rules of Kovid protocol. If you wear a mask properly, wash your hands with soap and sanitize, keep a distance from people, then your chances of getting infected are greatly reduced. To stay away from corona virus, keep the nose and mouth well covered. Scientists say that most people are using masks made of cloth, but this mask is not fully capable of protecting you from the virus. Even with the new variant of the coronavirus, Omicron, you cannot avoid a single layer cloth mask. For this, you should use a surgical mask or a more effective respirator mask with a cloth mask.
Cloth mask can infect in 15 minutes
According to the CDC, if an infected person without a mask comes in contact with a person wearing a cloth mask, then he can become corona infected in just 15 minutes. If both people are wearing cloth masks, then it can take 27 minutes for infection to occur. If both people are wearing surgical masks, it may take 30 minutes for the infection to spread. But if both are wearing N95 masks, you can be safe for 2.30 hours.
Must wear a disposable mask under a cloth mask
The new guidelines have been issued by the Center for Disease Control and Prevention of America. In this, people above 2 years of age have been advised not to go to public places. Especially those who have not had the vaccine. Wear a mask when you go out of the house. The CDC has said that 'if you are wearing a cloth mask, then definitely wear a disposable mask under it. Reusable masks should be washed daily and disposable masks should be thrown away after one use.
Can N95 masks protect against Omicron?
N95 masks are more effective than cloth masks and surgical masks to prevent any virus. It has multiple layer filters and its fitting is also good. N95 masks can protect against up to 95 percent of contaminated particles. The chances of leakage are also very less in these. Its triple layer protection keeps pollution and any virus away.
The N-95 mask filters the air too
Health experts say that when the corona virus spreads, people with weak immunity inhale the aerosol produced by an infected person. These aerosols can spread quickly in a closed space, but if you are wearing a high filtration mask like N95, it filters out the virus. With this, you can also keep other people around the infected person safe.
N-95 masks are more effective than surgical and cloth masks
A research has said that N95 masks are 7 times more effective than cloth masks and 5 times more effective than surgical masks. However, wearing N95 masks for a long time causes many problems.
Disclaimer: ABP News does not confirm the methods, methods and claims mentioned in this article. Take these only as suggestions. Before following any such treatment/medication/diet, consult a doctor.
Also read: Health Tips: Keep These Medical Gadgets At Home During Omicron Variant, Will Not Be A Problem
Check out below Health Tools-
Calculate Your Body Mass Index ( BMI )
Calculate The Age Through Age Calculator
,