In Grenoble, two fossils examined with X-rays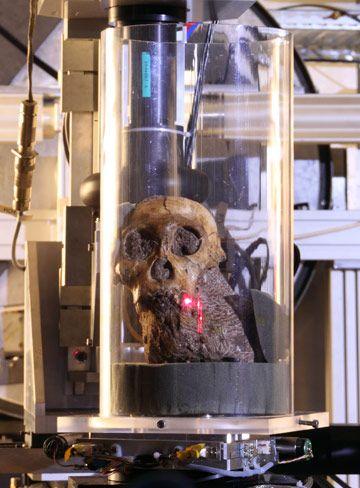 These cousins ​​of the ancestors of man spent a week in Grenoble under the fires of the most powerful scanner in the world.
Two exceptional fossils have just completed a one-week stay at the Grenoble synchrotron (ESRF), the most powerful in the world. A synchrotron is in a way an "electron velodrome": powerful magnets guide the electrons, previously accelerated to a speed very close to that of light, to make them turn in a ring 900 m in circumference. They then emit X-rays at very high power, allowing scientists to dive into the infinitely small and study objects with unique precision.
Read also The meteorite that killed the dinosaurs would have fallen in the spring
The two fossils were discovered by American paleoanthropologist Lee Berger (University of the Witwatersrand, Johannesburg, South Africa), who oversees the operations and relays them live on Twitter. Both have generated enormous debates in particular on their seniority, and their passage in a tool as powerful as the synchrotron will make it possible to solve a certain number of mysteries and, failing that, to close the controversies…
.