In Guadeloupe, tensions resume with the epidemic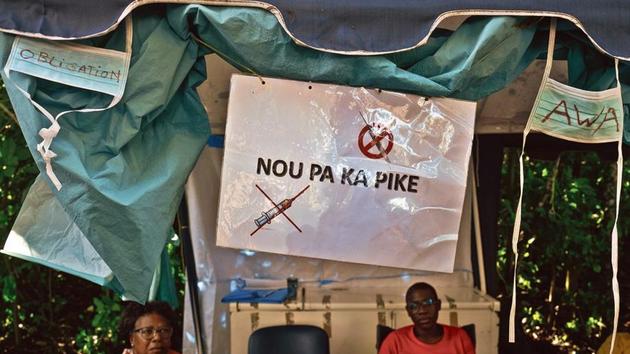 Activists against the vaccine obligation sequestered, Tuesday, the director of the CHU of Pointe-à-Pitre.
Pointe-a-Pitre
Guadeloupe is still under tension. On Wednesday, after four complaints filed following the assault on the Director General of the Pointe-à-Pitre University Hospital and his deputy, a flagrant investigation was opened for "aggravated willful violence". The day before, about fifty activists against the vaccination obligation of caregivers held the headquarters, a good part of the day, in front of the administrative building of the CHU, refusing access and exits to the occupants of the offices.
Read also"Impossible not to draw the parallel": in the West Indies, mistrust against the covid vaccine linked to the chlordecone scandal
Later in the evening, the director of the establishment Gérard Cotellon and his deputy Cédric Zolezzi were "Sequestered" in offices, according to them, before being exfiltrated by the police. An exfiltration "Tense" according to a police source. "We were molested, I received jets of urine", said Cédric Zolezzi. The director of the CHU, meanwhile, received a blow to the head which, he says, made him lose consciousness for a few seconds. At the same time, several …
.