In Nepal, scientists at the bedside of the glaciers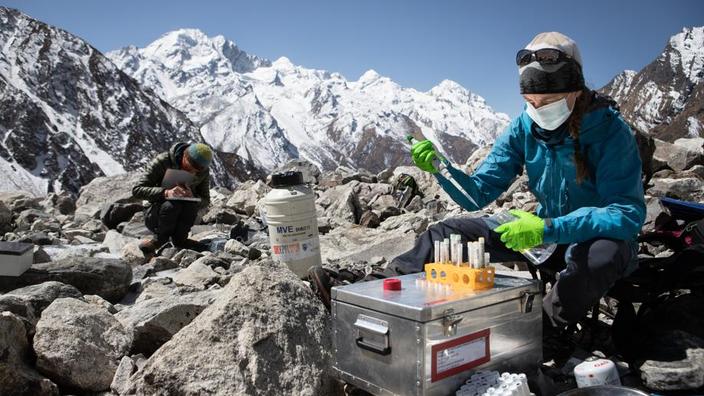 REPORTING – Since 2018, the Vanishing glaciers teams have been traveling to the highest peaks around the world. On an expedition to the Himalayas, we followed five scientists in search of the oldest form of life on earth: microbes.
From our special envoys Fanny Arlandis (text) and Sophie Rodriguez (photos)
Sometimes the silence is deafening. In the Nepalese Langtang valley, the incessant wind hammers the eardrums. Faded garlands of colorful triangles slam in front of hastily sealed doors with wooden planks. Further on, we cross a village buried under stones by the 2015 earthquake. In this spring of 2021 marked by the health crisis, few are still living here, and all foreigners have deserted this region for months. , north of Kathmandu. All of them, with the exception of a group of five scientists from the Swiss Federal Institute of Technology in Lausanne (EPFL) and their 22 porters, loaded with 714 kilos of equipment. They roam these mountains to collect microbes from the streams at the base of the glaciers.
Read also"They did not leave to defy death": the unfolding of the tragedy which took the three French climbers to Nepal
It took the team a day on the bus, on an impossible road, strewn with rocks and strewn with crevices, plus three days of walking to reach
.