In Tanzania, France and the Aga Khan join forces against cancer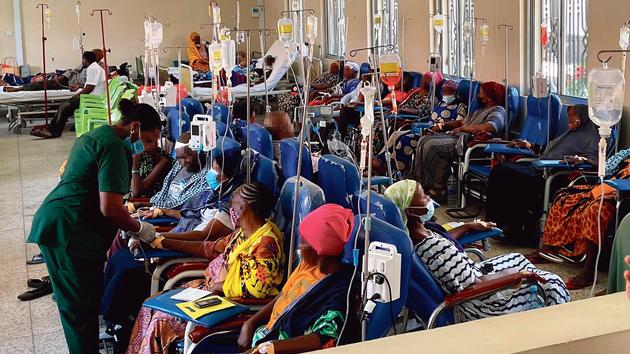 SURVEY – A 13 million euro project, to which Institut Curie is providing its expertise, hopes to improve cancer screening and treatment in this East African country. Subject to many beliefs and too little known, the disease has a growing hold on public health.
Special envoy to Tanzania
Facing the Indian Ocean, the white building opens its arched windows wide to the offshore winds. 200 meters from a beach in Dar es Salaam, Tanzania's largest city, this could be a luxury hotel. But the building, erected at the end of the 19th century by the German colonial government, welcomes a different kind of traveler: the Ocean Road Cancer Institute (Orci) is one of the few public establishments in the country that takes care of cancer. Every year, 7,000 to 8,000 new patients come there for chemo and radiotherapy treatments. The surgery is done a few kilometers away at Muhimbili National Hospital. But Ocean Road patients are rarely eligible anyway: by the time they get here, the disease has metastasized multiple times and is no longer operable. "70 to 80% of patients come to us at an advanced stage", testifies Dr. Julius Mwaiselage, Director General of Orci.
Read alsoCancer: the progress that gives hope
In Tanzania, cancer remains a relative unknown …
.