In the Basque Country, a microalgae causes symptoms similar to Covid-19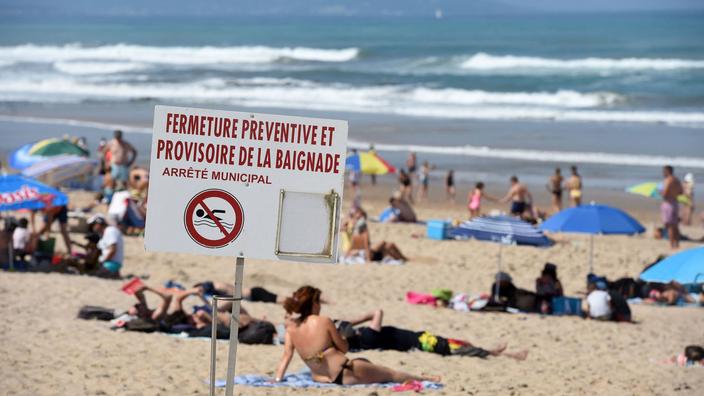 Last weekend, swimming was banned on the beaches of several municipalities in the Basque Country, due to the presence of a potentially toxic microalgae.
Fever, body aches, sore throat, cough … Jeanne feared she had been infected with Covid-19 during her stay in the Basque Country. Going surfing in Guéthary (Pyrénées-Atlantiques) last week, the young woman in her twenties begins to feel the symptoms of a temporary cold. A few days later, while she is spending the day on the beach, she is again inconvenienced. "I had a stuffy nose, I didn't feel well, she testifies. I went to bed very early at night and the next day I started to feel worse and worse. I had aches, a little fever, sore throat. I thought it was the Covid. "
Read also :A toxic algae has temporarily closed beaches on the Basque coast
Jeanne then decides to consult a doctor who will give her a test. Negative. In fact, the young woman owes her symptoms to a microalgae present on the Basque coast. Last weekend, several beaches were closed in the face of the increasing inconvenience suffered by swimmers. The first report to the Regional Health Agency of Nouvelle-Aquitaine (ARS) dates back to July 31. "A group of surfers reported the presence of algae giving off a strong nauseating odor in the area of ​​the Erromardie spot in Saint-Jean-de-Luz". Since then, the ARS has received five reports. "Young people who have frequented a beach in Saint-Jean-de-Luz, a resident of Erromardie, lifeguards and surfers from Guéthary and Biarritz", details the organization.
Dozens of people affected
The poisoned people could however be much more numerous, according to Guillaume Barucq, general practitioner in Biarritz and local elected official.. "It's been about three weeks since it lasts, he emphasizes. At the beginning, we had isolated cases of surfers coming out of the water in Bidart or Guéthary. And then, especially this weekend, dozens of people, I would even say hundreds, had symptoms. We had entire beaches with people who were coughing, who had irritated eyes… " The doctor also launched a call for testimonials via his surf prevention website. "I had hundreds of feedback, which made it possible to understand in particular which beaches were the most affected."
Some municipalities, such as Biarritz, Saint-Jean-de-Luz or Bidart, then decided on Sunday August 8 to close their beaches as a preventive measure. "When we saw that there was a lot of algae in the bathing areas, that we had a lot of people with headaches, ENT problems or even respiratory problems, we decided to close all the beaches from Biarritz, says Jean-Philippe Oustalet, head of the city's environmental brigade. We had never seen that. "
The ARS believes that these symptoms were caused by a microalgae of the genus Ostreopsis. "On August 3, the Ifremer laboratory took samples of water and algae, and the analyzes revealed a high abundance" of this "Tropical microalgae". In the Mediterranean, Ostreopsis ovata was reported in 2006 and is known to be toxic to humans. "In Basque waters, we would rather be in the presence of another species Ostreopsis siamensis", raises the ARS.
A toxic algae?
This alga was identified in the Basque Country from 2016, even if it was already known on the Atlantic coasts since 2000. "In 2016, Ifremer in Brest carried out a study on the geographical distribution of the genus Ostreopsis and they found several cells on the Basque coast, ranging from the Spanish border to Biarritz, explains Elvire Antajan, researcher at the Environment Resources Arcachon-Anglet laboratory at Ifremer. Already last year, around September, there were reports of surfers and swimmers complaining of symptoms. But the episode had been fleeting unlike that of this summer. "
In 2018, the laboratory had however studied the toxicity of this alga in comparison with the ovata. "It turned out that it was not toxic to humans but only to crustaceans, relates the scientist. We are therefore surprised at the concomitance between the crisis of this weekend and this algae. We took samples to do genetic analyzes to find out if there is not also ovata in the batch. Which could explain the symptoms. We could also find that humans are more sensitive to this species in high concentrations. We will study the toxins that can trigger these symptoms.. "
Regarding these symptoms, "Benign", the ARS warns that they may appear "2 to 6 hours after exposure and that they decrease within 24/48 hours, without subsequent complications". Swimmers or walkers can thus feel a flu-like state, cutaneous discomfort or even respiratory discomfort in the case of people going regularly in the water such as surfers or lifeguards.
Confusion with the Covid
Affections which are therefore reminiscent of Covid-19, in a department where the incidence rate is 277 per 100,000 inhabitants. "I really thought I had the Covid, abounds Jeanne. And everyone I was with got sick as well. My boyfriend, who surfed every day, had a very sore throat and one evening he even had trouble breathing. He had a hiss when he breathed. " A multiplication of cases that fall badly for doctors already "Assailed" by patients infected with Covid-19. "We had a complicated summer with the Covid and many sick patients so, in addition to the algae, it doesn't help, deplores Dr Barucq. Except that we really cannot tell the difference between algae or Covid, they are the same symptoms. It is therefore absolutely necessary to be tested before going to see the doctor. "
However, the general practitioner has observed an improvement for two days with a reflux of algae from the bathing areas. But without guarantees that a future episode will not cause further confusion. Ifremer is therefore preparing a follow-up every two weeks until the end of September in order to monitor the evolution of the phenomenon and to alert if the concentration of algae were to increase. Elvire Antajan also hopes to learn more about "Environmental conditions favoring the spread of algae".
As to whether Ostreopsis could cause another wave of poisoning, the scientist is not optimistic. "It is a microalgae which clings to a macroalgae. But when there is a lot of swell, bad weather, then the cell can unhook and arrive in the bathing waters. The bad weather of the last few weeks could therefore explain their high concentration. In fact, the wind can also explain why people on beaches can be hit without having been in the water. "
A new gust of wind could therefore be enough for the algae to be transported back to the bathing water. The researcher agrees that Ifremer does not know very well "The cycle of this alga". It is indeed the ARS which is in charge of monitoring the quality of bathing water. Except that she's only interested in bacteria. "Ifremer only takes samples offshore but this monitoring does not allow us to see what is happening in the bathing water, she regrets. It will be necessary to think from the start of the new school year to set up a new surveillance. We cannot ignore the problem. "
.