"In the name of our children, let's save the pediatricians"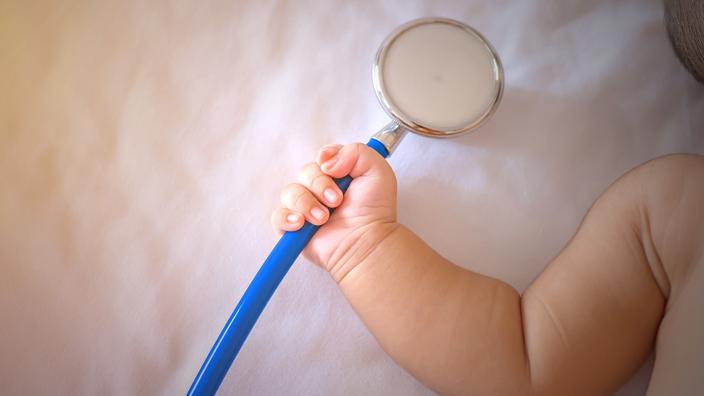 TRIBUNE – Early childhood experts are worried about the consequences of the health crisis, and the threats to pediatric medicine.
Summer is looming, the children will soon be leaving school. They leave behind a difficult year, dotted, very anxiety-provoking, with impacts in terms of mental health, overweight, learning delays. In this context of health crisis, the permanence of care for children has been compromised. Very impacted from a physical and mental point of view, toddlers were nevertheless the object of less "attention" than other audiences admittedly suffering, but who could and knew how to make it known as students and young people. adults. We, pediatricians, warn that this population clearly lacked attention and that the effects of this crisis are likely to occur in the years to come.
Read also :Is the adult mask a brake on children's development?
A health crisis with multiple consequences
Increased disorders: the health crisis has increased the incidence of disorders in children, permeable to the anxieties of their parents, relatives and society in general. Dr Hugues Desombre, child psychiatrist and head of unit at the HFME (Hôpital Femme Mère Enfant) of the Hospices Civils de Lyon, observed a 40% increase in child psychiatry activity since the 2e confinement. The children's ill-being has worsened (scarifications, episodes of mental illness with medication, suicidal ideation with sometimes acting out, violence between them …), all accompanied by a glaring lack of suitable structures leaving children and their families in disarray. We must warn about the medium and long term repercussions of this crisis which is far from over for child psychiatry.
A distance from care and delays in screening: the confinements and closures of schools have led to a halt in screening consultations and in particular 6-year check-ups by national education doctors (EN); difficulties in identifying disorders and discomfort by teachers with a delay in reporting to national education doctors, and difficulties in responding to requests for school nurses, over-solicited by the management of the health crisis; an end to child care, whether paramedical, such as speech therapy, or specialized medical such as medical-psychological centers (CMP) (assessments not done, delay in diagnosis or treatment); a distance from the care and support of families for whom this is already complicated in normal times.
The risk of an impact on development: According to a study produced by a Chinese team on the effects of the 2003 SARS pandemic on the development of 15,000 children aged 0 to 15 years, language, motor, social delays, and even an impairment of weight curves, have were notable among children under 3 years of age. The risk therefore exists with the Covid-19 pandemic, and the deleterious effect of masks on non-verbal communication between children and adults through the weakening of social and cognitive links has been well documented.
Declining vaccinations: the vaccination of children has continued to show a serious deficit. At the end of 2020, we already observed a negative balance of deliveries of -52,600 injections for the penta and hexavalent vaccines (diphtheria, tetanus, pertussis, polio, diseases caused by Haemophilus influenzae b and / or hepatitis B) and -170,000 for the measles-mumps vaccine. rubella (MMR). At the start of 2021, we can observe a new drop in deliveries, with a negative balance of -28,700 and -96,400 respectively, compared to the expected over the first 4 months of the year. The risks of a serious epidemic resurgence are to be feared. Among adolescents, a very sharp drop in HPV (papillomavirus) vaccine deliveries began during the 1st confinement of 2020 and continued, reaching -274,000 doses (-33%) for 2020 and -103,000 doses (-27 %) over the first 4 months of 2021.
Children deserve experts… and time!
It is urgent to take a holistic look at the motor, clinical and mental development of our children and to assess any sign of long-term consequences. A prevention assessment among children, as the National Education had
This article is for subscribers only. You have 85% left to discover.
Pushing back the limits of science is also freedom.
Continue reading your article for € 1 the first month
Already subscribed? Log in
.