Japan very late on anti-Covid vaccination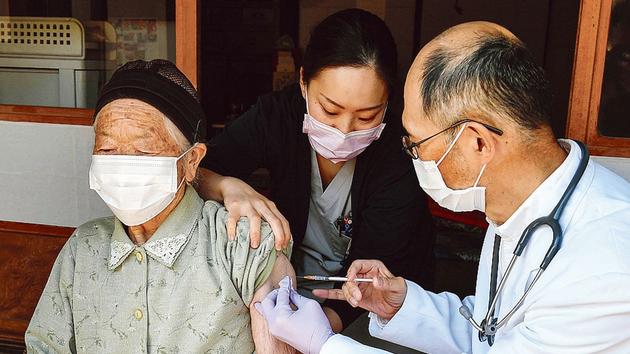 DECRYPTION – Only 3% of residents received at least one dose. As the epidemic gains ground, anger is brewing in the Archipelago.
The advertisement spread Tuesday morning over two full pages in three major Japanese dailies (Yomiuri, Nikkei, Asahi) who make public opinion of the Archipelago every morning. It represents in tones and a typography borrowed from the militarist propaganda of Japan at war a brigade of children armed with spears facing the Covid-19. With this slogan: "We don't have any vaccines. No drugs. What do we have to fight with? Bamboo spears? At this rate we will be killed by the government!This media stunt by the facetious publisher Takarajima, who is used to shock campaigns, struck a chord in a country wandering in its vaccination campaign.
Read also :Covid-19: the pandemic awakens deflation in Japan
For weeks, the media have been raising its snail look day after day: with 3% of Japanese having received at least one dose (and 1.1% fully vaccinated), the Archipelago is at the bottom of the world pack, behind Tunisia and Zimbabwe, between Cape Verde and Samoa. Outdated municipalities, overheated switchboards, ministers
This article is for subscribers only. You have 79% left to discover.
Subscribe: 1 € the first month
Can be canceled at any time
Already subscribed? Log in
.