Jupiter's meeting with Saturn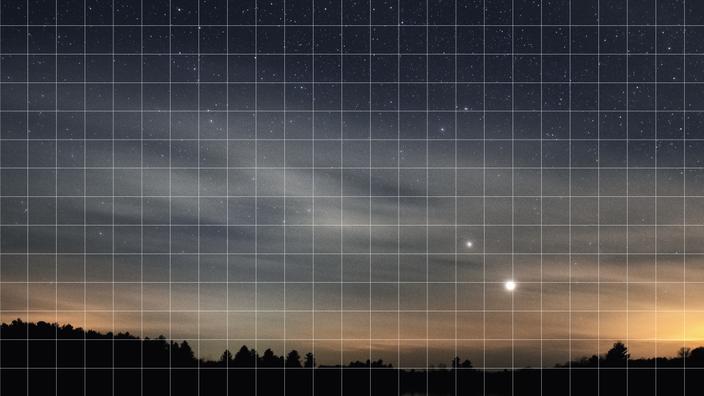 INFOGRAPHICS – It is a spectacle which has not occurred with such ardor since Louis XIII. In the December sky, the two giant planets, Jupiter and Saturn, come together until they seem to merge.
Since this summer Jupiter and Saturn are getting closer and closer. But it is December 21, 2020, at nightfall, that the two largest planets in the solar system appear so close, that they hardly form a single bright spot in the twilight sky. An extraordinary sight to be seen with the naked eye, over the southwest horizon, even in places polluted by light, where observation is generally difficult as in big cities. It is therefore not necessary to get up in the middle of the night, nor to have an advanced device. All it takes is clear weather and a clear horizon. With glasses or a small telescope it is possible to observe the two stars at the same time, in the same visual field. Their satellites can also be distinguished, as well as the rings of Saturn.
On December 16, the Moon even invited itself into this splendid celestial picture, drawing a slight diaphanous crescent inclined under the two planets.
This conjunction is exceptional. The two stars, seen from Earth, have never been so close to each other for 400 years. The last time was July 16, 1623, during the reign of Louis XIII.
If their meeting is usual, it takes place every 20 years, Jupiter orbiting in 12 years and Saturn in 30 years, it is this year unique because of the favorable position of the Earth which produces this incredible optical illusion. In reality, the two planets are separated by millions of kilometers. On December 21, Jupiter will be 890 million kilometers from Earth and Saturn more than a billion and a half …
Then at the beginning of January 2021, they will eventually disappear in the solar light. We will have to wait until November 2040 and April 2060 to see another great conjunction, but the planets will seem much more distant than in 2020. Finally, in 7141, an even more extraordinary event will take place: Jupiter will pass directly in front of Saturn and will occult it.
Until then, we can also take advantage of December to admire the peak of activity of one of the most beautiful nights of shooting stars of the year, the Geminids, looking towards the constellation of Gemini above the horizon. Less known than the Perseids of August, for many observers who are not afraid of cool nights, this swarm is the most beautiful meteor shower of the year.
.