Karva Chauth 2021: Karva Chauth is on the Chaturthi date of Kartik month, know the auspicious time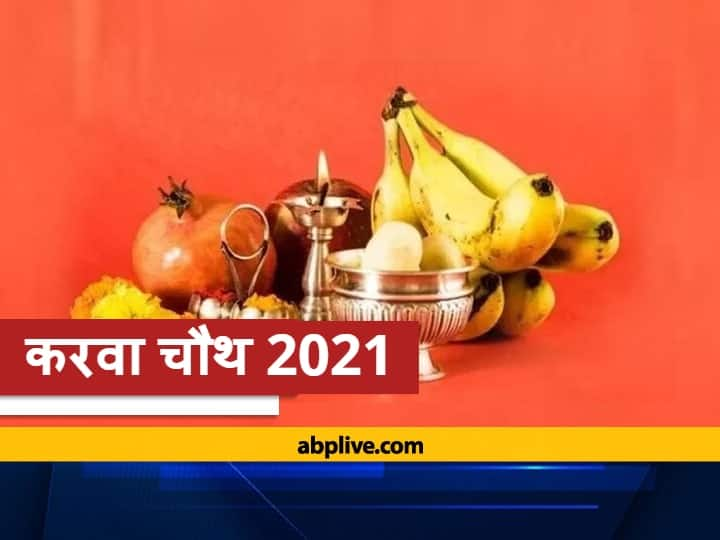 Karva Chauth 2021 Date: According to the Panchang, the fast of Karva Chauth will be kept on the fourth date of Krishna Paksha of Kartik month on Sunday, October 24. The fasting of Karva Chauth has special significance in Hinduism.
Why is Karva Chauth fasted?
Suhagin women keep the fast of Karva Chauth for the long life of their husbands. Along with this, this fast is also kept for the good health, progress and success of her husband. The fast of Karva Chauth is the favorite fast of married couples. This fast is considered to be one of the most difficult fasts.
what is the history of karva chauth
A fierce battle started between the gods and the demons. In order for the gods to be victorious in this war, Brahma ji asked the wives of the gods to observe a fast. According to a legend, this fast is fulfilled by the wives of the gods. The gods got victory in the war. Then the tradition of keeping this fast started. According to another story, Mother Parvati also kept this fast to please Lord Shiva.
Sankashti Chaturthi 2021
According to the Panchang, October 24, 2021, is the Chaturthi date of Krishna Paksha of Kartik month on Sunday. This date is also called Sankashti Chaturthi. The festival of Sankashti Chaturthi is dedicated to Lord Ganesha. Special worship of Lord Ganesha is also done on this day.
Karva Chauth Moonrise Timing- Night – 08 to 07 minutes.
Panchang 24 October 2021
Vikrami Samvat: 2078
Month Purnimant: Kartik
Party: Krishna
Day: Sunday
Date: Chaturthi – till 29:46:02
Nakshatra: Rohini – till 25:01:58
Karan: bav – till 16:24:27, balav – till 29:46:02
Yoga: Varian – till 23:32:34
Sunrise: 06:27:12 AM
Sunset: 17:43:11 PM
Moon: Taurus
dry season: rain
Rahukaal: 16:18:41 to 17:43:11 (no auspicious work is done during this period)
Shubh Muhurta Timings, Abhijeet Muhurta – 11:42:40 to 12:27:43
Direction: West
Inauspicious timing –
Wicked Muhurta: 16:13:03 to 16:58:07
Kulik: from 16:13:03 to 16:58:07
Kalvela / Ardhyam: from 11:42:40 to 12:27:43
Hours: from 13:12:47 to 13:57:51
Kantak: 10:12:32 to 10:57:36
Yamgand: 12:05:12 to 13:29:41
Gulick time: from 14:54:11 to 16:18:41
Read also:
Surya grahan 2021: Do not do this work even by forgetting during solar eclipse, people of Cancer and Libra zodiac should be careful
Safalta Ki Kunji: Lakshmi ji is happy to take care of these things, happiness and peace remain in life
Eclipse 2021: At the time of eclipse, pregnant women should keep these things in mind, know when the eclipse will take place?
.