Karva Chauth today: know when is the auspicious time of worship and what is the worship method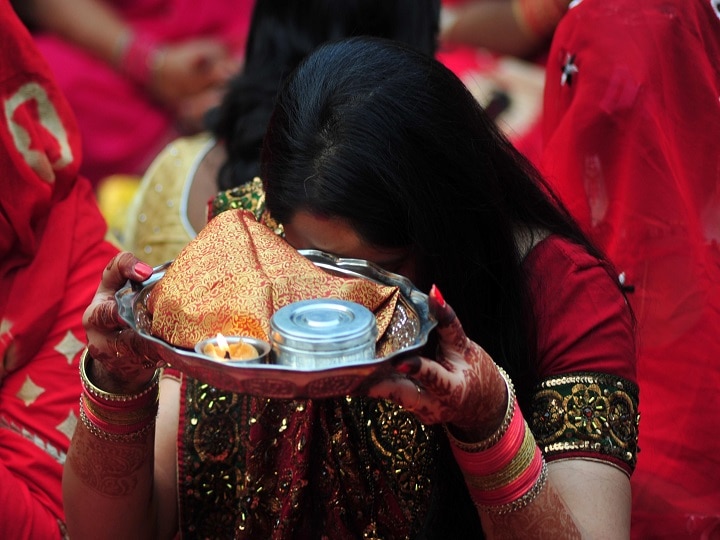 Today, the festival of Karva Chauth is being celebrated. This time, 6 auspicious yogas including 4 Raja Yoga are being made at Karva Chauth. Such yoga is being done for the first time in 100 years. Among these four Raja Yoga are Shank, Dirghyu, Hans and Gajkesari. Apart from this, Shiva, Amrit and Sarvaarthasiddhi Yoga are being made, which increases the importance of this festival even more.
Saragi plate given to women
Women will fast fast today. Then after worshiping the moon at night, she will break her fast. The women have started their fast only after eating sargi. From this morning, the initiative of fasting women is seen everywhere. Worshiping is being done in many places. One special thing about Karva Chauth is that this festival is a symbol of unwavering love. Women wait for this day every year.
Auspicious time of worship
According to the Panchang, auspicious time has been made for worshiping Karva Chauth from 5.34 pm to 6.52 minutes. While the time for worship of Karvachauth will be from 6.35 am to 8.12 am.
Method of worship Karva Chauth
The Karva Chauth fast begins before sunrise. There is a tradition of taking Sargi in the fast of Karva Chauth. In the morning fast is observed for Sargi Karva Chauth. The special significance of Sargi has been told in the fast of Karva Chauth. Suhagin women begin the fast by eating a sargi obtained from their mother-in-law.
The festival of Karva Chauth is being celebrated in Himachal Pradesh as well
In Solan, Himachal Pradesh, there is a rage in the markets regarding Karva Chauth. There is a good crowd at women's shops. There is also a lot of enthusiasm among women about Karvachauth's fast. Earlier yesterday, in addition to the sixteen makeup materials, women also bought material for worship. Suhagins bought their furnishings. At the same time, the people of mehndi including maniyari, sweets shops were also very crowded.
read this also:-
Rajasthan Kartik Maas 2020: Tulsi Puja is done in the month of Kartik, keep these things in worship, money is benefited
This Diwali is going to be painted in the house, so take special care of these architectural rules
.