Kitchen Hacks: Make Sesame and Jaggery Gajak like Market at Home, Know the Recipe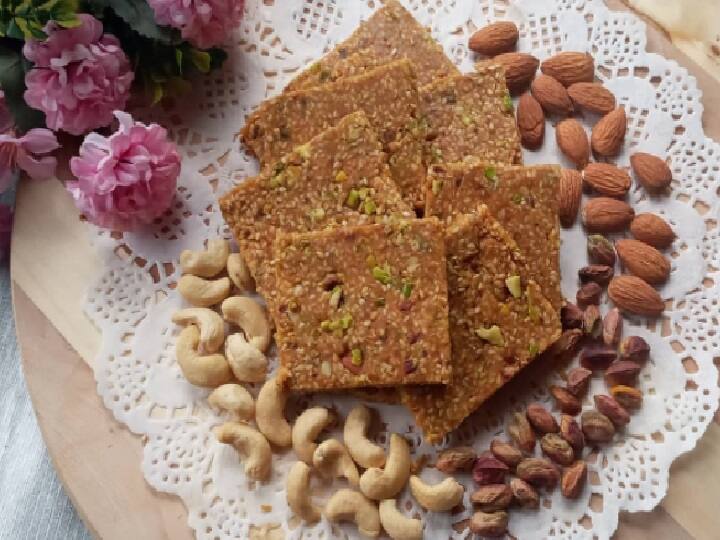 Sesame Gajak Recipe: In winters, I love to eat gajak. Gajak looks very tasty to eat and is also beneficial for health. As soon as the cold starts, Gajak starts getting available in the market. Sesame Gajak, Jaggery and Peanuts Gajak are very tasty to eat. Till now you must have eaten Gajak by buying it from the market, but today we are telling you the recipe of making Gajak at home. People think that it takes a lot of effort to make Gajak, but it is not that you can easily make Gajak at home. Know the simple recipe of making Gajak.
Ingredients for making Gajak
white sesame 200 grams
Jaggery 300 grams
15-16 chopped almonds
15-16 chopped cashews
2-3 ground cardamom
3 tsp ghee
Gajak Recipe
1- First of all fry the sesame seeds well in a pan.
2- When the sesame starts roasting, a slight fragrance starts coming in it.
3- Now take out the sesame in a plate and let it cool down.
4- Now put ghee and jaggery in the pan and cook it on slow flame.
5- Now grind the sesame coarsely in a mixer.
To make Gajak, grease a deep plate with ghee.
7- Now mix cardamom powder and sesame in jaggery syrup and mix.
8- Now turn off the gas and spread this mixture by putting it in a plate.
9- Now put chopped nuts on it and set the gajar with a little hand and spread it by rolling it with a rolling pin.
10- After about 10 minutes, cut the gajak into desired shape with a knife.
Leave the gajak to set for 11- 30 minutes.
12- You can eat this Gajak immediately and keep it in an airtight container.
Also read: Kitchen Hacks: Non stick wok, tawa and pan will not spoil for years, will look like new after cleaning in this way
,