Know when the moon will be visible in your city on Sakat Chauth, see the list of major cities here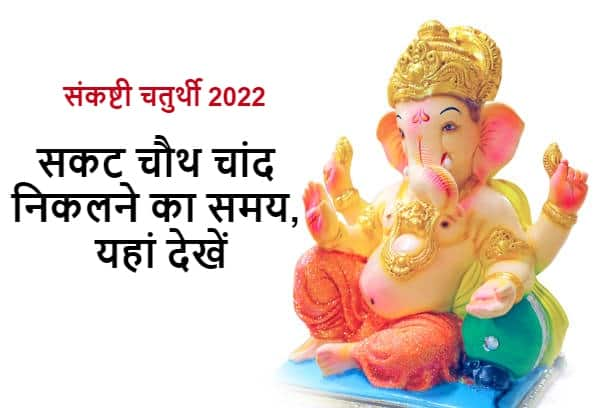 Sakat Chauth 2022 : According to the Panchang, January 21, 2022, is the Chaturthi date of Krishna Paksha of Magha month on Friday. This day is also known as Sakat Chauth, Tilkut Chauth or Til Chauth and Sankashti Chaturthi. In the scriptures, Chaturthi date is considered as the mother of all dates.
This date is dedicated to Ganesha
The date of Chaturthi is considered to be the favorite date of Ganesha. This date is dedicated to Vighnaharta. In the scriptures, the lord of this date, Ganesh ji has been told. That is why special worship of Ganesh ji is done on this date. There is also a tradition of fasting on this day.
offerings to the moon
In the scriptures, the moon is considered the lord of medicines and the factor of the mind. It is believed that on this day, worshiping the moon and offering arghya results in a healthy child. On this day, mothers keep a fast and do special worship of the moon. It is believed that offering Arghya to the Moon brings good luck. The time of sighting of the moon today at different places of the country is as follows-
Delhi – 21:00
Lucknow – 20:46
Varanasi – 20:39
Ghaziabad – 20:59
Patna – 20:30
Ranchi – 20:31
Bareilly – 20:51
Bhagalpur – 20:23
Prayagraj – 20:44
Kanpur – 20:49
Amritsar – 21:06
Chandigarh – 20:59
Jalandhar – 21:04
Gurugram- 21:01
Faridabad – 21:00
Sirsa – 21:08
Madhubani – 20:25
Agra-20:58
Meerut – 20:57
Gaya – 20:31
Mumbai- 21:27
Indore – 21:11
Pune – 21:23
Sakat Chaturthi Tithi Auspicious time
Sakat Chaturthi date begins- Tomorrow January 21, Friday, from 08:51 am
Sakat Chaturthi date closing- January 22, Saturday, 09.14 in the morning
Read also:
Astrology: It is very lucky for the father, that is why it is called 'Papa's angel'
Shani Dev: Do this remedy for Shani Dev on the first Saturday of Magh month, you will get relief from Sade Sati and Dhaiya
,