Knowing Shri Krishna's child pastimes, you will become devotional, read his stories before Janmashmati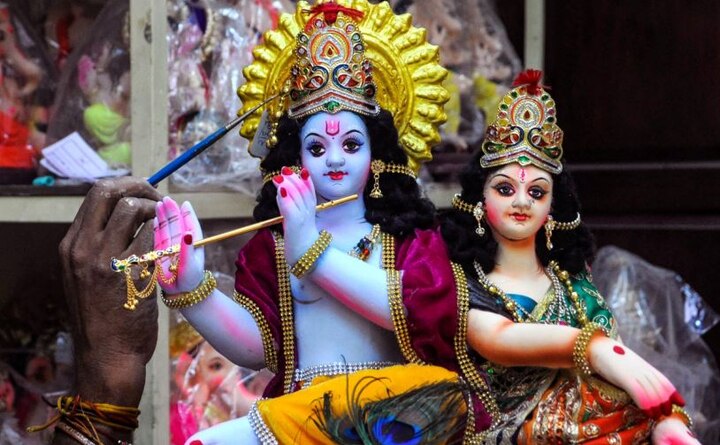 Krishna Bal Leena: On Monday, August 30, the festival of Janmashtami will be celebrated with great pomp across the country. There are only two days left for the Janmashtami festival and from now on the atmosphere has become devotional all around. People are wanting to know and read a lot about Shri Krishna's stories and worship etc. From decorating Bal Gopal to decorating his cot, the preparations have already been completed. Tableaux are also decorated in temples on that day. These tableaux depicting the stories of Shri Krishna's children's pastimes are very pleasing to the people. In such a situation, we have also brought some such child pastimes of Bal Gopal, which you will get emotional after reading.
Lord Shri Krishna's Bal Leela (shri krishna baal leela)
According to the legend, Lord Krishna was born in prison from the womb of Vasudeva and Devaki. Vasudeva gave Shri Krishna to Yashoda in Gokul, where Yashoda brought up his Lalla Kanha with great affection. Lord Shri Krishna was naughty since childhood. As much as Yashoda Maiya and Nand Lala were upset by their naughty style, so were the villagers there. Krishna ji, along with his friends, used to steal the butter of the villagers and eat it, after which the villagers used to reach Maiya Yashoda with their complaint. Because of this, he also had to be scolded by his mother.
Slaughter of Kaliya Nag (kaliya naam vadh)
The killing of Kaliya Nag is one of the popular child pastimes of Shri Krishna. Once Shri Krishna was playing with a ball on the banks of river Yamuna with his friends. Suddenly the ball went into the Yamuna river and all the friends of Bal Gopal together sent him to fetch the ball from the river. Bal Gopal also jumped into the Yamuna immediately by climbing the Kadamba tree. There he found Kaliya Nag. Shri Krishna along with his brother Balaram killed the poisonous Kaliya Nag.
Rasleela with the gopis of the village
While Lord Shri Krishna had a special relationship with Radha ji, he also had a lot to do with the gopis of the village. Radha was very fond of the tunes of Krishna's flute. Raslilas of Radha-Krishna are very popular in the whole village. They were seen dancing and singing a lot on any Teej-festival. The gopis of the village were also very fond of Shri Krishna's flute. The attractive face of Shri Krishna immediately attracted the gopis towards him. Which was very popular in the whole village.
govardhan parwat story
Everyone is also familiar with the story of Govardhan Parvat. Which is one of his popular pastimes. Actually, Indra Dev was unaware of Shri Krishna's pastimes and in anger he made very heavy rain in the village. To save the villagers, Shri Krishna lifted the Govardhan mountain on one of his fingers and gave shelter to all the people of Mathura under it. For seven days, without eating anything, Shri Krishna stood without lifting the Govardhan mountain. And on the eighth day when the rain stopped, the villagers were taken out. In the month of Kartik, the worship of Annakut was also started by Shri Krishna.
Kansh's slaughter (kansh vadh)
At the time of the farewell of Devaki and Vasudev, Kansa had received a voice from Akash that only the eighth son of Devaki would kill Kansa. Since then, many efforts have been made from Kansa, so that the eighth child is not allowed to come to the earth. But Lord Vishnu took the incarnation of Shri Krishna to kill Kansa. Kansa adopted many measures to kill Shri Krishna, but they failed in all. Seeing the amazing feat of Shri Krishna and Balarama, Kansa decided to get them killed at the hands of a Palawan. For this Kansa invited Shri Krishna and Balarama to fight with Palwan. But he killed that Palawan and also killed Kansa, freed Vasudev and Devaki from prison.
After killing Kansa, Krishna and Balarama went to their guru's ashram for education. Shri Krishna spent some days in Dwarka itself. After this the historical war of Mahabharata was fought between Pandavas and Kauravas, which was led by Shri Krishna.
If you want to become rich then wear this thing around your neck, you will get the blessings of Tulsi ji along with Lord Vishnu and Mother Lakshmi.
Janmashtami 2021: These zodiac signs are very dear to Lord Krishna, they have special grace, are you also involved
.