Less than one in two French people want to be vaccinated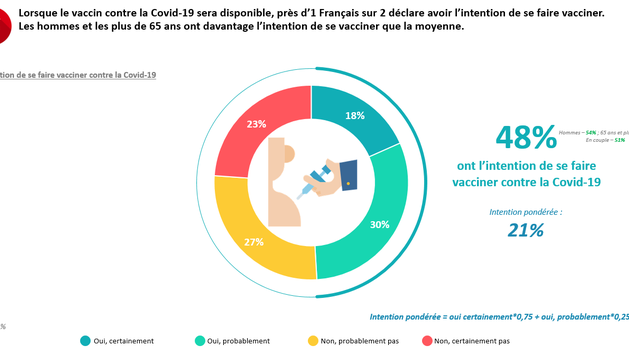 BIG BANG SANTÉ – This is one of the major findings of the OpinionWay-Elsan survey published on the occasion of the Big Bang Health. Overall, those surveyed have experienced the confinement well.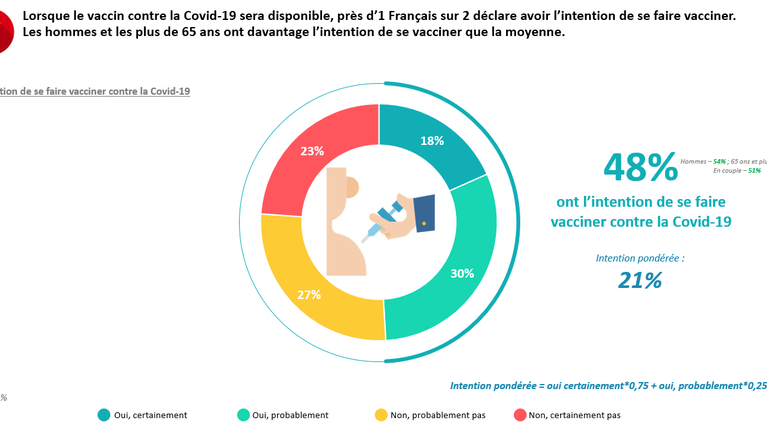 The distrust of the French population vis-à-vis vaccines, in particular that against SARS-CoV-2, is tenacious. It is in all that emerges from an OpinonWay-Elsan poll for the "Big Bang Health" of the Figaro. Barely one in two respondents (48%) will " certainly " or " probably " to get vaccinated. It is possible that with the return of the epidemic and the arrival of a vaccine, this proportion will change. Almost a quarter (23%) nevertheless answered " certainly not " do it.
Trust in hospitals at 75%
Asked about the capacity of the various actors to cope with the second wave, only 45% of those polled believe the government capable of cope. On the other hand, three quarters of respondents trust their hospitals and clinics. The survey also shows that the confinement was perceived positively by our compatriots. More than 8 out of 10 French people say they have experienced confinement. Only 12% have it "Badly lived ", And 5%" very bad ". The vast majority rather enjoyed this period and they are even a quarter to have it. "Very well lived".
58% fear new confinement
However, the prospect of new confinement hardly enchants the respondents: they are 58% to fear such a scenario. The ratio is even higher (66%) among those over 65. Their vulnerability to the virus and the risk of further severing ties with their children and grandchildren are undoubtedly explanatory elements. Seniors are also less used to using digital platforms to keep in touch with their loved ones.
In this regard, confinement has benefited teleconsultation websites such as Doctolib or Qare. Around 30% of French people have increased their use of digital tools this year to make an appointment with their doctor or consult him remotely.
Greater role for Europe
The latest lesson from this survey carried out on a sample of 1,002 people representative of the French population at the end of September, more than 80% of French people want Europe to play a more important role in the management of pandemics. The figure is surprising, because the French population has been very critical of European institutions for several years. But she recognizes the importance of coordinating efforts between countries in the face of a complex virus that knows no borders. In addition, the reconquest of our health sovereignty will doubtless pass through the European level.
.