Long Covid: 60% of hospitalized patients still have symptoms 6 months later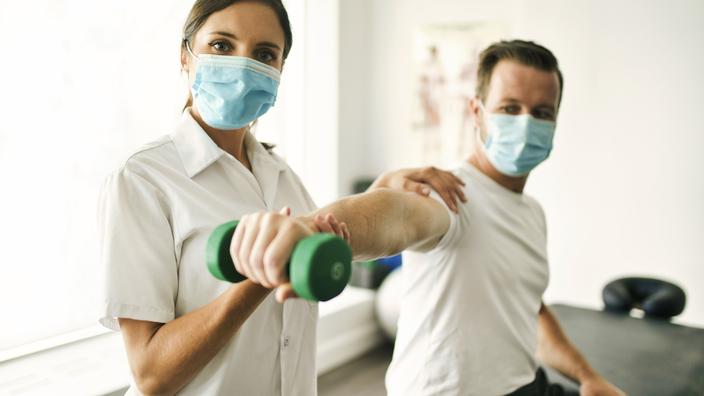 A study carried out in France by Inserm shows a very high prevalence of the persistence of symptoms.
They have long remained under the radar of epidemiological surveillance, even considered as imaginary patients. But doctors ended up realizing what the patients themselves called "Covid long". Yes, a phenomenon of symptoms that persist or reappear sporadically for many months after infection does exist. It remains to better understand it, and first of all to know how many patients are concerned.
SEE ALSO – Can Vaccination Help Cure Long Covid?
Among the many teams studying the subject, researchers from Inserm / AP-HP / University of Paris are today publishing a study based on a cohort formed very early in the epidemic, from the very first patients hospitalized for Covid in France. They followed the patients over the long term, with follow-up visits 3 and 6 months after their initial infection. Their results, published this Monday in Clinical Microbiology and Infection , are based on 1137 patients followed in 63 centers. All had been hospitalized (in intensive care or not) for a virologically confirmed Covid-19.
Read also :Long Covid: these patients in whom the symptoms drag on
At each visit, ten symptoms were systematically looked for: fatigue, difficulty in breathing, joint pain, muscle pain, headache, rhinorea, cough, throat irritation, loss of taste and smell. And the results are impressive: according to the authors, 60% of patients followed up to 6 months still presented at least one symptom (mainly fatigue, breathing difficulty, joint pain and muscle pain), and a quarter of patients followed presented 3 or more. A third of those who had a job before the Covid did not return six months later.
Finally, the authors do not observe any real improvement over time: if 655 patients presented symptoms three months after the acute phase of the disease, they were still 639 at six months. "We will continue to monitor patients included in French Covid up to 18 months after infection, by also offering tests evaluating neuro-cognitive functions », Underlines in a press release Jade Ghosn, cohort coordinator and professor in the infectious and tropical diseases department of the Bichat Claude-Bernard AP-HP Hospital.
Among the patients presenting at least 3 prolonged symptoms, the authors note a link with the fact of being a woman, as well as with the severity of the disease during the hospitalization. "This suggests an intrinsic role for the virus itself", note the authors, while patients have normally cleared the virus by this date, at least where its presence is detectable. Age and a degraded state of health before the acute phase of Covid, however, were not linked to the risk of developing a long form of the disease.
Read also :Long Covid: these patients in whom the symptoms drag on
Still, these data suffer from a significant bias: among 2,500 patients enrolled, still alive six months after the acute illness and having agreed to participate in the study, only 1,137 attended the six-month meeting. Didn't the others feel the need to come because their state of health had improved, were they followed elsewhere?
"Many studies assess the prevalence of long-term Covid, and each study has different results"

Dr Viet-Thi Tran, epidemiologist (Hôtel-Dieu, AP-HP)
The reliability of the count of patients suffering from Covid long is one of the pitfalls still facing research: "Many studies assess the prevalence of long-term Covid, and each study has different results", noted last week during an online seminar Dr. Viet-Thi Tran, epidemiologist (Hôtel-Dieu, AP-HP) and co-investigator of the Compare cohort which brings together patients with chronic diseases. "It goes from 90 to 50% for studies at the hospital, from 40 to 10% in studies in town … All this is linked to the country, the context, when we evaluated things in relation to the dynamics of the epidemic and with respect to time since the onset of symptoms in patients " but also, underlined the epidemiologist, to the very definition of Covid long. Each defines the list of symptoms whose presence signs a long form. And if anosmia is very specific to Covid because it is present in very few diseases, others, such as headaches or fatigue, are much more difficult to relate with certainty to a possible long Covid.
.