Madhuri Dixit shares Kanda Poha's recipe, you can also watch the video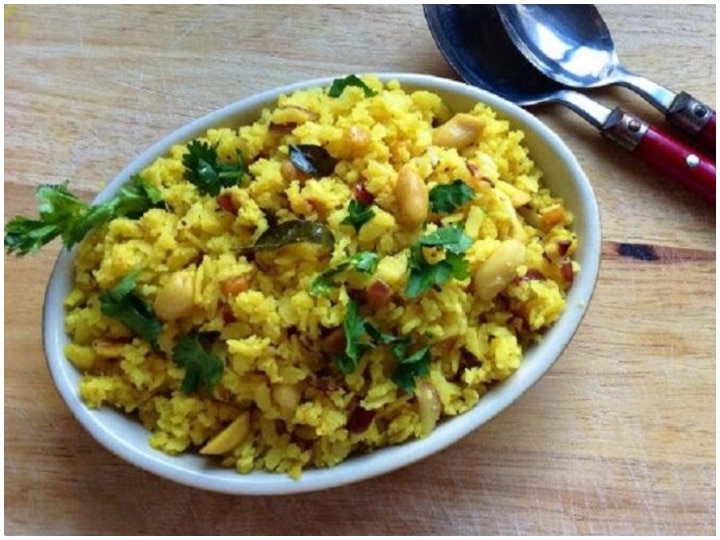 Kanda Poha is a popular dish in Maharashtra. The specialty of its recipe is that it can be made easily in a very short time. Breakfast prepared in less time and less oil is very tasty and healthy.
Actor Madhuri Dixit has shared a video. In this, he can be seen sharing Kanda Poha recipe. Madhuri's husband Dr Sriram Nene is also seen with him. If you are in the mood to enjoy Kanda Poha, then definitely watch the 10 minute video.
Ingredients of Kanda Poha
200 grams flat rice (poha prepared from chidwa, rice)
2 medium sized onions
Chopped green chili
Olive oil for cooking
½ teaspoon mustard
7-8 curry leaves
2 tablespoons Urad Dal
1 teaspoon turmeric powder
Salt to taste
3 tablespoons Roasted Peanuts
Coriander leaves
Lemon juice
Preparation method
Soak poha prepared with rice. For this, wash the poha in a chali and wash it well and drain the water. Then, leave aside for 10 minutes. With this, cut two medium sized onions and green chillies. Now place it in a pan on medium heat and put two spoons of olive oil on it. Once the oil boils, mix half a teaspoon mustard with curry leaves and urad dal. Now add chopped onion and chilli.
Sprinkle slowly and fry till the onion becomes soft. Finally, add one teaspoon of turmeric powder and soaked pohe. Now add salt to taste. After that mix all the ingredients and finally add the roasted peanuts. Once all this is done, spread it with coriander leaves and lemon juice for a pungent taste. Enjoy a hot dish at breakfast.
After retirement, Mahendra Singh Dhoni is doing organic farming, is selling cow's milk and tomatoes
Sapna Chaudhary's video is getting viral on social media
.