Make delicious kheer with sugarcane juice, it is very beneficial for stomach and health, know the recipe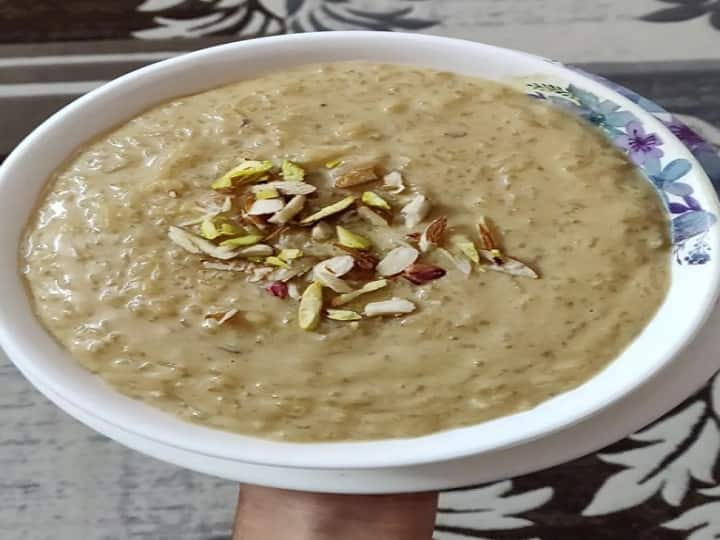 If you feel like eating sweet, then you can eat sugarcane juice by making kheer. Sugarcane juice is available in plenty in summer. You can make delicious kheer with this juice. Sugarcane juice kheer is specially made on many festivals. Eating this kheer is more beneficial than it tastes. You can easily make sugarcane juice kheer. Know its recipe.
Ingredients for making sugarcane juice kheer
Sugarcane juice – 1 liter

Basmati rice – 100 grams

Cardamom powder – 1 tsp

Chopped nuts – 1 tbsp
Sugarcane Juice Kheer Recipe
1- To make sugarcane juice kheer, first soak the rice in water.
2- Now put sugarcane juice in a pan for boiling.
3- When the sugarcane juice starts boiling, wash and mix the soaked rice in it.
4- Now put cardamom powder in the kheer and let it cook on low flame. Keep stirring the kheer in between.
5- When the kheer becomes thick, add nuts to it.
6- Now let the kheer cook for a while and turn off the gas.
7- Delicious kheer made from sugarcane juice is ready. You serve it after it cools down.
8- In summer, you can feed the guests by making sugarcane juice kheer in sweets.
read this also:
Punjabi Bhindi Masala Recipe, Paneer will fail in front of this vegetable
,