Make Moong Dal Barfi on Holi, a very soft and healthy sweet recipe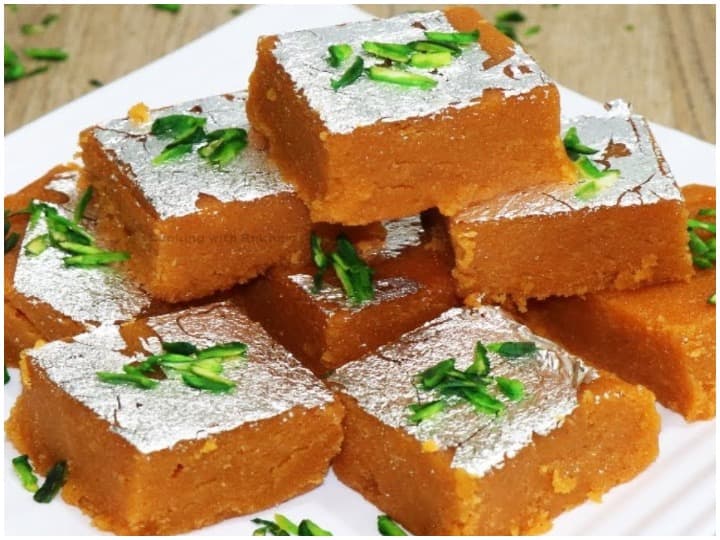 If you want to make something sweet apart from Gujiya and Rasgulla on Holi, then you can make Moong Dal Halwa or Barfi. Moong dal ki barfi tastes very delicious. The special thing is that it is a healthy sweet dish as compared to other sweets. Some people like Moong Dal Barfi so much that they like to eat this sweet on every festival. Whenever you feel like eating sweet, then you can eat moong dal burfi immediately. Know the recipe of making Moong Dal Barfi.
Ingredients for Moong Dal Barfi
Moong dal – 1 cup

Milk – 1 cup

Sugar – 1 cup

Ground cardamom – 4-5

Saffron – 8-10 threads

Roasted almonds – half a handful

Ghee – 1 cup

water as needed
Moong Dal Barfi Recipe
1- To make Moong Dal Barfi, first soak the lentils for 5-6 hours.
2- Now rub the soaked lentils with hands and take out the peel.
3- Make a paste by grinding the lentils a little coarsely in a mixer.
4- Heat milk in a pan and put saffron threads in it.
5- Heat ghee in a pan and keep the medium flame, put the lentils in ghee and cook while stirring.
6- You have to fry the lentils well for about 15-20 minutes.
7- Now add water and sugar to the dal and cook till the sugar dissolves.
8- When the lentils start leaving ghee, add saffron milk and cook the lentils again on low flame.
9- The lentils will start leaving ghee again, after that you add ground cardamom and almonds and mix them well.
10- Turn off the gas and take out the lentils in a greased plate and freeze like barfi.
11- When the barfi cools down a bit, cut it into the shape of a barfi with a knife.
12- Delicious and soft moong dal barfi is ready.
Also read: Holi Special: Make Crispy Potato Shortcakes At Home, Will Want To Eat Again And Again
,