Make paan thandai at home, in front of it the coolness of AC-cooler will also fail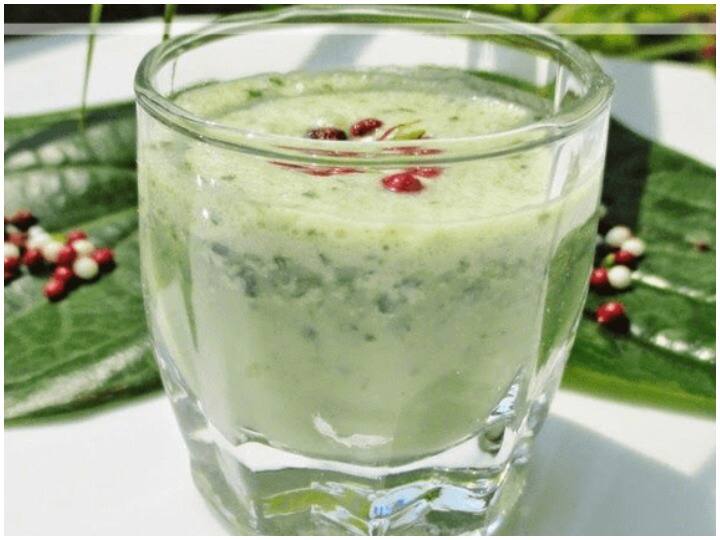 Pan Thandai Recipe: In North India, people drink Thandai to avoid the scorching heat and heat wave. Thandai is a very famous syrup in summer. This gives many benefits to the body. Drinking thandai in summer reduces the risk of stomach irritation, heat and heatstroke. Such things are added to Thandai which help in keeping the body healthy. Drinking thandai in summer strengthens immunity. Those who abstain from milk can also drink it after making thandai. This changes the taste of milk and increases its nutritional value.
Today we are telling you to make betel-based thandai, if you drink betel-based thandai in summer, you will get wet. There will be a feeling of coolness in the body. Fennel, pistachio, green cardamom and betel leaves falling in it make it cool in effect. Know the recipe of making paan thandai at home.
Ingredients for Paan Thandai
Betel leaves – 2

Pistachios – half a bowl

Green cardamom – 4-5

Fennel – 2 tbsp

Milk – 2 cups

Sugar – 2 tbsp
Pan Thandai Recipe
It is quite easy to make thandai from paan. For this, you first put betel leaves in the jar.

Now add fennel, pistachios, cardamom, sugar and half a cup of milk to it.

First grind all these things finely in a grinder.

Now add the remaining milk as well and grind all the things while running the blender once again.

If you do not like fennel peels in thandai, then you can also filter and drink thandai.

By the way, after filtering thandai, the taste of nuts and other things falling in it is less, which some people like very much.

Delicious paan thandai made from betel leaves for summer is ready.

You put it in a glass tumbler and serve it with some ice.
Also read: Kitchen Hacks: Kadhai Paneer Recipe, Tasty To Eat And Easy To Make
,