Mental illnesses: adopting a dog to gain autonomy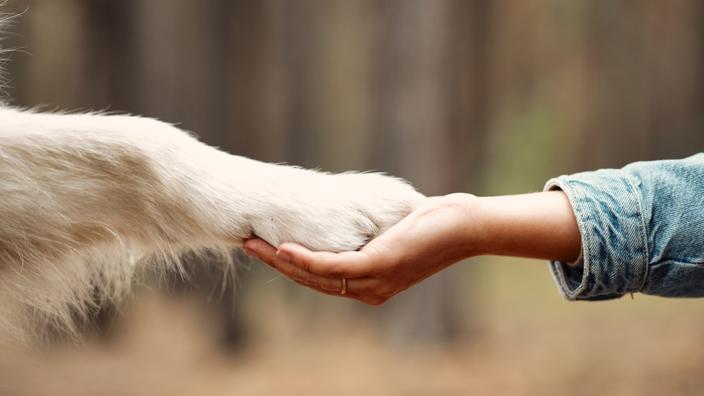 PSYCHOLOGY – Associations train assistance dogs for patients with mental or autistic disorders.
On this beautiful spring morning, a radiant sun warms the park of Belleville, in Paris. With his "Handi'chiens" cape visible on the body, Jingle does not go unnoticed. The young black Labrador dog has been accompanying Agnès Léonard for two and a half years, who suffered for years from severe behavioral disorders. "I had uncontrolled movements of my body. My arms were spinning, I was walking strangely. I was exhausted, I lost 15 kilos », testifies the 56-year-old Parisian, who had to be hospitalized for six months in Sainte-Anne.
Read the file:File: our daily psychology advice
Today everything has changed. Agnès is better, no longer takes anti-anxiety drugs. "Jingle calms me down. She saved me. She makes me want to exist ", she confides, visibly moved. When she has a tearful fit, her dog comes to put her muzzle on her knees to calm her down. If she drops her glasses, the Labrador picks them up and brings them back to her. The bitch has him too "Learned to walk again" guiding her.
Freud and his chow-chows
"There is a real craze for
This article is for subscribers only. You have 79% left to discover.
Pushing back the limits of science is also freedom.
Keep reading your article for € 1 for 2 months
Already subscribed? Log in
.