Mexico: the forest with a thousand wings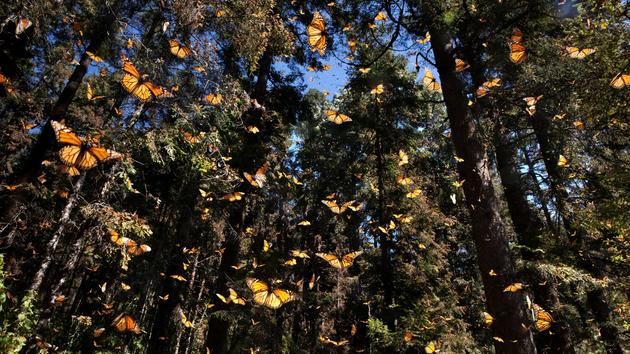 REPORT – Each year, swarms of monarch butterflies travel more than 4,000 kilometers, from northern America to the pine forests of the Mexican mountains. Captured by a photographer whose work will be exhibited until October at the La Gacilly Photo Festival in Morbihan, this exceptional odyssey intrigues scientists, but continues to be threatened by a string of ecological disasters.
By Vincent Jolly (text) and Pascal Maitre / MYOP (photos)
It is a very strange winter palace which awaits the traveler on the heights of the mountains of Michoacán. Perched where the Sierra Madre and the Mexican neovolcanic cordillera meet, the building resembles a cathedral open to all. We enter it humbly before the first light of dawn. Its owners are still sleeping. Everything is silent. The air carries scents of resin and damp earth. Huge pillars rise from the sloping ground. Impossible to distinguish the top. They rise high towards a starry sky that they seem to prevent from collapsing.
These gigantic dark columns are not of marble or smooth stone; they are, like big and broad bouchots, full of roughness. Winding stalagmites frozen in the cold where hang what looks like hundreds of thousands of shells. Mussels? At 3200 meters above sea level and 250 kilometers from the nearest sea? In the
This article is for subscribers only. You have 92% left to discover.
Pushing back the limits of science is also freedom.
Continue reading your article for € 1 the first month
Already subscribed? Log in
.