Mokshada Ekadashi fast removes disease, poverty and discord, know when is this holy Ekadashi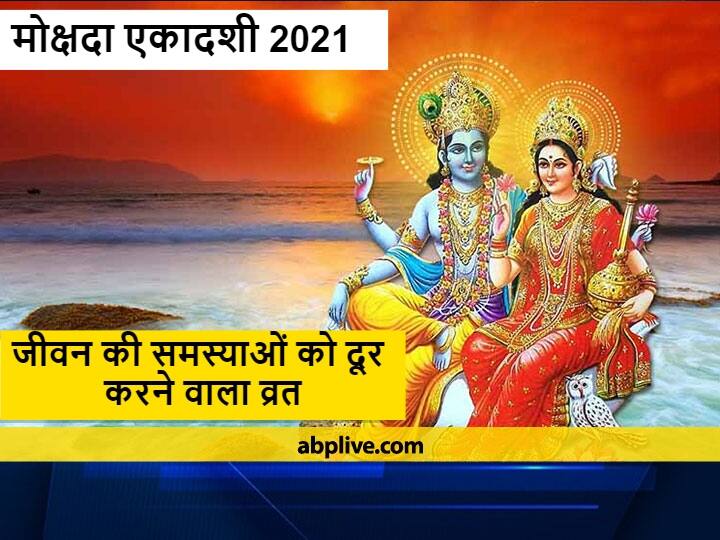 Mokshada Ekadashi 2021 Date: The fast of Mokshada Ekadashi is considered one of the important fasts. It is believed that Mokshada Ekadashi fast fulfills all kinds of wishes and removes the troubles in life. Important information related to this fast, let us know.
When is Mokshada Ekadashi fasting?
According to the Panchang, on Tuesday, 14 December 2021, the Ekadashi date of Shukla Paksha of Margashirsha month is known as Mokshada Ekadashi. Special worship of Lord Vishnu is done on Mokshada Ekadashi. It is believed that the month of Margashirsha is considered as the most beloved month of Lord Krishna. Lord Krishna is an incarnation of Vishnu.
Fasting on Mokshada Ekadashi removes these problems
It is believed that fasting on Mokshada Ekadashi removes diseases, poverty, stress and discord. By observing Mokshada Ekadashi fasting methodically, the ancestors are also pleased and offer their blessings. On the other hand, Mokshadayini Ekadashi is considered to give virtuous results. One attains salvation by fulfilling this fast with devotion.
Ekadashi Vrat Muhurta (Mokshada Ekadashi Tithi 2021)
According to the Panchang, Mokshada Ekadashi Tithi 2021 is starting from 09.32 pm on Monday, December 13, and will continue till 11.35 pm on the next day, December 14. Mokshada Ekadashi fast will be observed on 14th December. This fast will be broken on the date of Dwadashi.
Mokshada Ekadashi Parana Muhurta- From 07:05:55 to 09:09:57 on 15 December 2021. The duration of Parana is 2 hours 4 minutes.
Mokshada Ekadashi Puja Method
Before starting the fast on the date of Ekadashi on 14th December, the resolution of the fast should be taken. After this, sanctify the place of worship by sprinkling Gangajal and bathe Lord Vishnu with Gangajal. After this, offer Roli, sandalwood, Akshat etc. to the Lord. On this day, after adorning with yellow flowers, offer offerings to God. Offer Tulsi leaves to Lord Vishnu. After this, do aarti of Lord Ganesha, Vishnu and Lakshmi.
Read also:
After December 14, you will be able to do auspicious and new tasks, know what is the reason for this
Astrology: In the year 2022, make these planets strong, obstacles coming in the field of job, business and education will be overcome, success will be achieved.
,