Moong Laddu Recipe: Want to have better health with taste, in this way make green moong laddus at home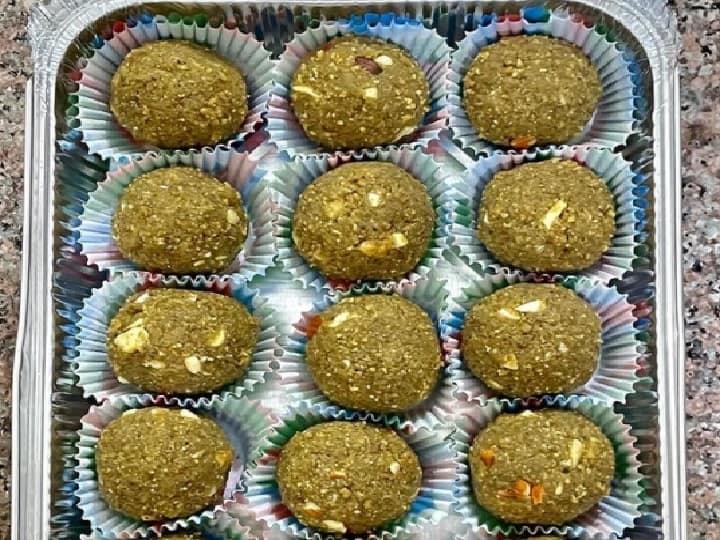 Kitchen Hacks Moong Laddu Recipe: In today's time everyone is suffering from some disease or the other. The biggest reason for this is excessive consumption of junk food. You must know that green moong is very beneficial for health. Magnesium, copper, folate, riboflavin, fiber, potassium, phosphorus and protein are found in green moong. It also removes problems like constipation and blood pressure. In such a situation, today we are going to tell you the easy recipe of green moong ladoo which is very good for health as well as taste. So let's know about this-
Ingredients needed to make Green Moong Ladoo
Green Moong – 200 grams
Ghee – 100 grams
Jaggery – 150 grams
Cashew-10
Almond-10
Raisins – 50 grams
Gum – 50 grams
Cardamom – 5 to 6
Melon – 1 tsp
How to make Green Moong Ladoo
To make green moong ladoo, first put the pan on the gas and add moong to it and fry it for 10 to 15 minutes. Then take it out in a plate.
Now put ghee in the pan and fry it by adding gum. After some time it will swell like popcorn.
Now put raisins and watermelon seeds in the pan.
Now with the help of a rolling pin, crack the gum a little.
Now grind moong and make its powder.
Now put jaggery in a pan and add water to make jaggery syrup. Now add moong flour to it.
Later add cashew nuts, almonds, raisins, cantaloupe seeds and gum.
Now add cardamom powder to it, turn off the gas.
When it cools down a bit, then give it the shape of laddoos.
Your moong ladoo is ready.
read this also-
Almond Face Pack: If you want to get glowing skin, then make almond face pack like this at home
Health Tips: If you want to keep the heart healthy, then follow these five tips daily
.