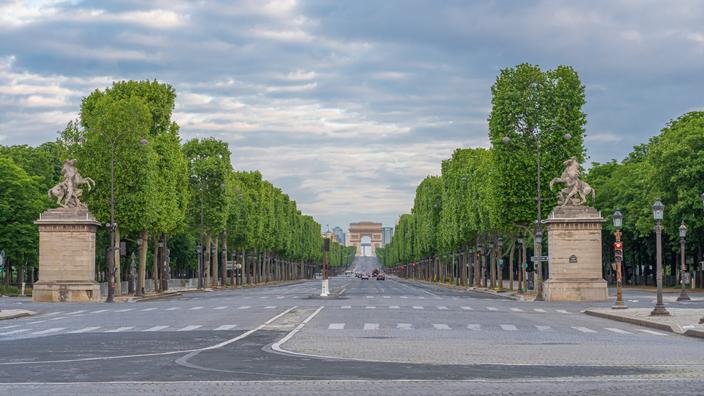 More than 40,000 deaths each year attributable to air pollution in France
According to a study by Public Health France, nearly 40,000 deaths are linked each year to too much exposure to fine particles and 7,000 to nitrogen dioxide.
The strict confinement that the French suffered in the spring of 2020 did not have the only positive effect of stemming the first wave of Covid-19. For several weeks, it led to a reduction in atmospheric pollution linked to the drastic reduction in traffic and the slowdown in industrial activity. In a report published on Wednesday, Public Health France (SpF) estimates that this drop in air pollution has prevented 2,300 deaths thanks to the decrease in fine particles (PM10 and PM2.5, the smallest listed, they of which respectively less than 10 and less than 2.5 microns).
These particles from the combustion of fossil fuels come from multiple sources (traffic, heating, agricultural spreading, etc.). They are so small that they can enter the lungs and then pass into the blood to enter all the organs of the body, causing an inflammatory reaction that weakens immunity and can in particular cause respiratory or cardiovascular diseases which are sometimes fatal. Sylvia Medina, coordinator of the "Air and health" monitoring program at SpF, also recalls that children's exposure to pollution hinders the development of their lungs.
Read also :Fight against global warming: is it possible to achieve carbon neutrality?
SpF also estimates that around 1,200 deaths were avoided during the first lockdown thanks to a decrease in exposure to nitrogen dioxide (NO2), emitted mainly by road traffic.
8 month loss of life expectancy
As part of its monitoring program "Air and Health», The national public health agency, which relies on data from a multidisciplinary network, took the opportunity to reassess long-term data on the total weight of air pollution on the health of French people between 2016 and 2019. It estimates that nearly 40,000 deaths are attributable each year to exposure of people aged 30 and over to fine particles (PM2.5), and 7,000 deaths to NO2 pollution, which represents respectively 7% and 1% of total annual mortality. That is to say a loss of life expectancy of nearly eight months for these people.
An encouraging signal, however: this trend seems to be on the decline. In its previous report published in 2016 for the period 2007-2008, SpF estimated at least 48,000 the number of annual victims of fine particles, or 9% of national mortality. An important difference in the absolute "but in epidemiological terms, there is a confidence interval, and we remain on the same order of magnitude», Moderates Sylvia Medina.
Read also :Is air pollution in Paris really decreasing with containment?
How are these estimates made? The concentrations of pollutants in the air are modeled by the National Institute for the Industrial Environment and Risks (Ineris). Then, explains Sylvia Medina, "the quantitative health impact assessment approach is based on epidemiological studies which establish a causal link between pollutant and mortality". The agency uses this concentration / risk relationship to apply it to the study population whose level of exposure to pollution has been calculated.
But not all studies use the same data or the same calculation parameters. One of them, coordinated by Harvard University, estimated at the beginning of the year at around 100,000 the number of annual premature deaths in France linked to air pollution. "Our results do not contradict those of Harvard; they result from different methodological choices», Thus indicates Sylvia Medina, explaining in particular that the calculation of the concentration of particles or the choice of the concentration / risk relationship were not the same.
Read also :Air pollution would cause nearly 100,000 premature deaths per year in France
In view of the observations made during the confinement, "public action measures appear to be an effective lever for reducing pollution levels"And their impact on our health, concludes Santé publique France. Reduce road traffic in urban areas, perpetuate the rise of teleworking, improve practices for using wood heating, accelerate the thermal renovation of homes… As Sébastien Denys, Director of Health, Environment and Work, points out, "they are preventable deaths and efforts can be made to help reduce them. We must therefore continue on this path".
.