Patient sorting: the French Hospital Federation dissociates itself from the Parisian doctors' platform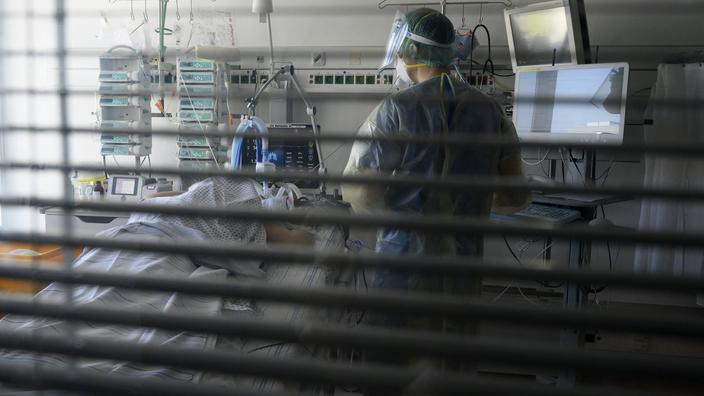 Forty-one resuscitators signed a platform on Sunday alerting the government that hospitals in Ile-de-France would soon be forced to sort patients.
"Our doctors and directors regret the chosen public expression, whose vehemence is likely to worry patients and their families.", Worries the French Hospital Federation of Île-de-France (FHF), in a press release published Tuesday, March 30. The association which brings together all the Ile-de-France hospitals outside the AP-HP wishes to dissociate itself from the platform of 41 Parisian resuscitators, who brandished last Sunday in the JDD, the ultimatum of the possible sorting of patients in the region , where the threshold of 80% of unscheduled operations has been crossed. "This sorting will concern all patients, Covid and non-Covid, in particular for the access of adult patients to critical care ", write these AP-HP crisis directors.
Read also :Deaths of Covid-19: when the families of victims denounce a "sorting" in the hospital
"The situation is indeed very critical in Île-de-France, respond to Figaro, Serge Blisko, President of the FHF IdF, but it is useless to panic patients and their families". With an intensive care bed occupancy rate close to 100% and an incidence rate bordering on 800 new contaminations per 100,000 inhabitants, the region "faces extreme stress, but patients should not flee hospitals".
SEE ALSO – Covid-19: "We will do everything possible" to avoid the "sorting" of patients, assures Olivier Véran
Retain care
Seeing patients refusing to come for treatment is the fear of these doctors in peripheral hospitals. "We welcome everyone even if it's difficult", Adds the former doctor who served as a deputy between 1997 and 2012. He refuses that"people believe that if they are too old or too sick they will not be cured". Impossible for him to forget the total stoppage of consultations last March, a situation "unthinkable today" who "must not happen again".
Read also :Covid-19: patient transfers, a hardship for families
Unlike the first confinement, during which there was almost no trauma accident, life goes on and non-Covid patients continue to perform services. "We are not in a situation of sorting but of prioritization», Assures the president of the FHF. He insists: the French must come to consult when they are sick. "We must continue to treat people", He warns, even if"the caregivers are in bad shape and the teams are exhausted".
.