Pediatric intensive care units overwhelmed by the bronchiolitis epidemic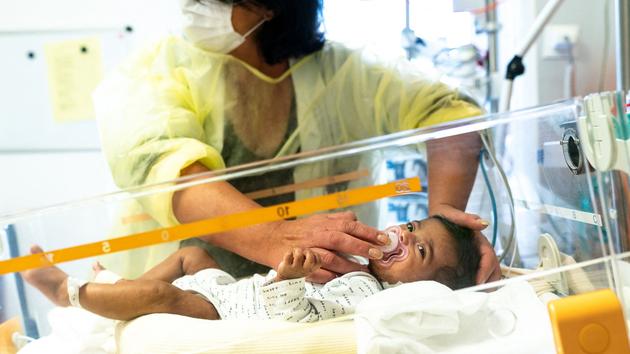 This early and intense epidemic this year is undermining overwhelmed services.
Pediatric resuscitation is running out of steam. It has certainly not been overwhelmed by the Covid-19, and the explosion in the incidence among young people – more than 550 cases per 100,000 inhabitants among 0-9 year olds – does not unduly worry professionals in the sector. , severe cases remaining rare in this age group. But these services are today overwhelmed by an epidemic of early and intense bronchiolitis, at a time when France is threatened by influenza and gastroenteritis. This year, the bronchiolitis arrived almost two months early and the cases are sometimes very severe. "This is the first time that I have seen so many babies aged 10 or 15 days arriving in our wards", note the Pr Stéphane Dauger, head of the pediatric intensive care unit at the Robert-Debré hospital in Paris.
Read alsoAmélie Verdier, at the bedside of Ile-de-France hospitals
He describes a very complicated situation all over the country. "In my department, the 20 beds have been more than 100% occupied for weeks." "In several Ile-de-France centers, we even had to requisition…
.