Pierre-Alexandre Ludwig, the call of the sea to Greenland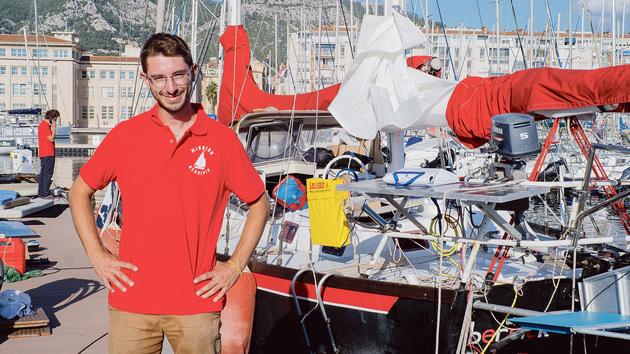 PORTRAIT – Just graduated from Centrale Paris, he is at the origin of a one-year scientific and educational expedition on a sailboat, called Nerrivik. The crew, made up of five childhood friends, left the port of Toulon on Sunday.
He is a young modern explorer, ready to weigh anchor. Round glasses, boy-scout look and frank smile, Pierre-Alexandre Ludwig, 25, is busy preparing his boat in the harbor of Toulon. The day of the big departure is approaching, "you have to manage the pressure of the final preparations»Explains this fellow, just graduated from Centrale Paris. Saturday, the day before the expedition, the tools are still lying on the pontoon. Several sausages hang in the hold, a few books are lying around on the shelves, a bottle of champagne awaits its turn. The friends who have come to lend a hand finish installing the electricity on the boat. All summer long, they took part in the refit of the Bernick the installation of electronic and electrical circuits, the restoration of the rigging and the fitting out of the boat for the mission.
Read alsoOn the trail of plastic pollution
"It's a real expedition boat», Specifies Pierre-Alexandre, proud of his discovery. He met the former owners of the sailboat, conveyed from the
.