Please Shani Dev, this is today's date, constellation and Rahukal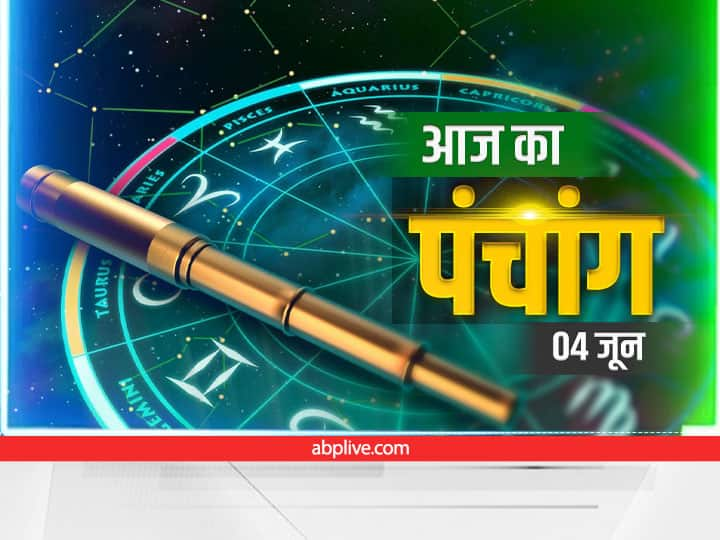 Aaj Ka Panchang 4 June 2022 : 4 June 2022 Saturday is a special day. According to the Panchang, today it is transiting in Cancer. Today is the fifth day of Shukla Paksha of Jyeshtha month. Let's know today's Panchang-
Today's date (Aaj Ki Tithi) : June 4, 2022 is the date of Panchami of Shukla of Jyeshtha month. Today 'Dhruv' yoga is being formed.
Today's Nakshatra (Aaj Ka Nakshatra): According to the Panchang, on June 4, 2022, there is Pushya Nakshatra. The lord of this constellation is Shani Dev. In astrology, Pushya Nakshatra has been called the king of all constellations. Pushya Nakshatra is the 8th Nakshatra of the sky circle.
Today's Rahu Kaal (Aaj Ka Rahu Kaal)
According to the Panchang, Rahukal will remain from 8.51 am to 10.35 am on Saturday, June 4, 2022. It is considered taboo to do auspicious work during Rahu Kaal.
Shani Dev
Today is Saturday. Saturday is dedicated to Shani Dev. Shani is said to be the giver of karma. They give man the fruits of his actions. Worshiping Shani Dev on Saturday removes the inauspiciousness of Shani.
4 June 2022 Panchang (Aaj Ka Panchang 4 June 2022)
Vikrami Samvat: 2079

Month Purnimant: Eldest

Side: Shukla

Day: Saturday

Season: Summer

Date: Panchami – till 28:53:54

Nakshatra: Pushya – till 21:55:24

Karan: Bav – till 15:50:49, Balv – till 28:53:54

Yoga: Dhruv – till 28:19:11

Sunrise: 05:23:05 AM

Sunset: 19:15:40 PM

Moon: Cancer

Rahu Kaal: 08:51:14 to 10:35:18 (no auspicious work is done during this period)

Shubh Muhurta Timings, Abhijit Muhurta: 11:51:37 to 12:47:08

Direction: East
inauspicious timing
Wicked Muhurta: 05:23:05 to 06:18:35, 06:18:35 to 07:14:05

Kulik: from 06:18:35 to 07:14:05

Kantak: From 11:51:37 to 12:47:08

Kalvela / Ardhyam: from 13:42:38 to 14:38:08

Hours: from 15:33:39 to 16:29:09

Yamgand: From 14:03:27 to 15:47:31

Gulik Time: 05:23:05 to 07:07:09
,