Richard Branson opens the space tourism market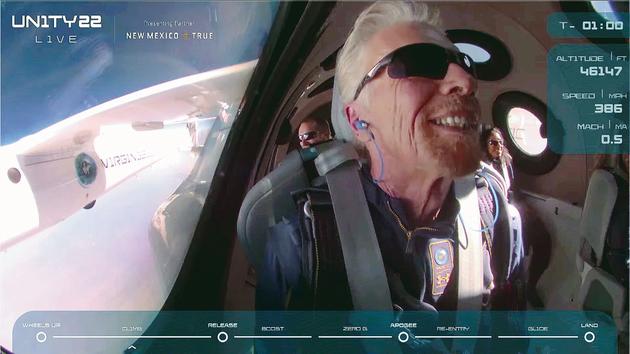 The boss of Virgin Galactic has made a big publicity stunt by boarding his ship himself.
The bet is successful for the whimsical billionaire Sir Richard Branson. As announced to everyone's surprise on 1er July, the boss of Virgin boarded his spaceship on Sunday VSS Unity to get to the borders of our atmosphere, at an altitude where we can see the curvature of the Earth standing out against the darkness of space. It's a "once in a lifetime experience"he said live from the cabin as he descended to earth. It was not the first time the ship had been in space, but it was the first "operational" flight with several passengers. Through its media coverage, this flight marks in a way the real kick-off of space tourism. UBS bank estimated in 2019 that this market could reach $ 3 billion annually by 2030.
Read also :Richard Branson makes his first space flight with Virgin Galactic
The technical solution chosen by Virgin Galactic is quite different from the reusable rockets of SpaceX (the company of Elon Musk) and Blue Origin (the company of Jeff Bezos, boss of Amazon, who must himself board his capsule for a test flight on July 20). Passengers board a small vessel equipped with 12 windows resembling a private jet. This is attached to a large twin-fuselage carrier aircraft, the mother ship VMS Eve, with a wingspan of over 40 meters. This gigantic metallic albatross took off Sunday at 8:40 a.m. local time (4:40 p.m. Paris time), from the Spaceport America operational base, located in the Mojave Desert in California. After climbing to an altitude of 15,000 meters (one and a half times higher than a long-haul), the Utility spacecraft detached itself from the mothership to ignite its rocket motor capable of propelling it to over 80 km. 'altitude. Either beyond the limit considered by NASA and the American authorities as marking the beginning of space (it is rather set at 100 km in the rest of the world, but this is rather anecdotal).
Restore confidence
Placed on a ballistic trajectory for a few minutes, the passengers were able to enjoy a brief moment in weightlessness before the sudden deceleration linked to the friction of the air when it returned to the atmosphere. The spacecraft then returned to dry land, hovering at 9.40am local time, the two pilots, Dave Mackay and Michael Masucci, bringing their four passengers safe and sound. In addition to Richard Branson, 70, three Virgin Galactic employees were on board: Beth Moses, chief astronaut instructor, Colin Bennett, operations engineer, and Sirisha Bandal, vice president.
Of the four suborbital flights already performed by VSS Unity, only one had carried a passenger, Beth Moses, who was flying today. Two qualifying flights of this type are still planned by the end of the year. The first commercial flights are scheduled for 2022. Nearly 600 seats have already been sold, at $ 250,000 per seat, and hundreds of people are on the waiting list. The company ultimately hopes to achieve 400 flights per year. It goes without saying that Richard Branson's presence on this first operational flight is partly intended to reassure potential customers and testifies to the confidence he placed in his machine. In 2014, its predecessor and twin VSS Enterprise crashed, killing one of its two pilots. This had jeopardized the entire project, which was, for this reason, many years behind schedule.
.