Sciatica, the very painful compression of a nerve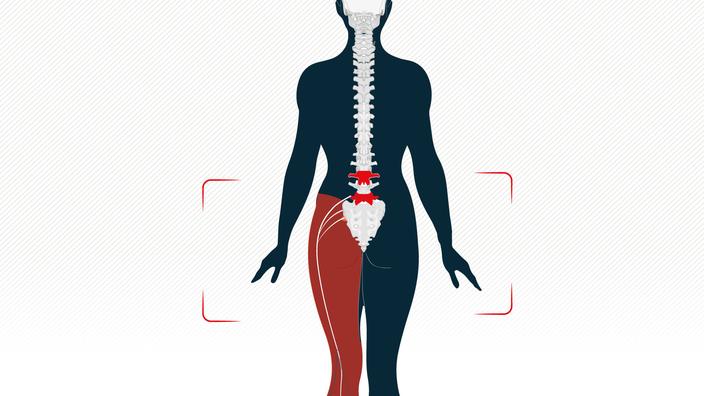 INFOGRAPHICS – When the sciatic nerve becomes compressed, radiating pain travels down the leg. It takes between 6 and 8 weeks on average to heal.
Sciatica is painful and fairly easy to identify. The pain appears suddenly on exertion, it is unilateral, associated with tingling, amplified by standing. It follows the path of the sciatic nerve. Both motor and sensory, this nerve of the lower limbs is the longest in the body. It has several nerve roots that originate in the bottom of the spinal cord at the level of the lumbar or sacral vertebrae. Depending on the vertebra affected, the pain will start from the back of the thigh or the knee, down the length of the leg, following the top of the foot to the big toe or the sole of the foot to the third toe.
Sciatica is usually caused by the compression of one of the two roots of the nerve, the L5 root between the 4th and 5th lumbar vertebrae, or the S1 root between the 5th lumbar vertebra and the 1st sacral vertebra.
This article is for subscribers only. You have 42% left to discover.
Subscribe: 1 € the first month
Can be canceled at any time
Already subscribed? Log in
.