Seasonal flu vaccine: the campaign open to all French people this Monday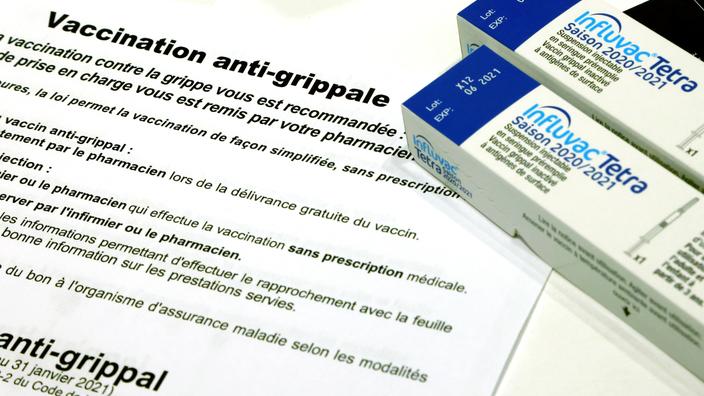 After the fragile, those over 65, pregnant women and caregivers, the seasonal flu vaccination is now open to everyone.
As the country enters the fifth wave of the Covid-19 epidemic, health authorities fear that the seasonal flu could worsen the risk of saturation of the hospital system.
Read alsoFlu, Covid-19, bronchiolitis: a high-risk winter cocktail
After a month of influenza vaccination campaign reserved for fragile people, over 65s, pregnant women and caregivers, the flu vaccine is now available to all French people, adults and children, from Monday. For this non-priority public, vaccination is not reimbursed by Health Insurance but available in pharmacies, without a prescription for adults, and for around ten euros. The injection can be done directly on site by the pharmacist.
SEE ALSO – Flu vaccination kicks off amid the rebound of the Covid-19 epidemic
According to figures from the Order of Pharmacists provided to Franceinfo, 5.6 million influenza vaccines have already been withdrawn free of charge from pharmacies, less than the 6.7 million last year during the same period. It should be noted, however, that the seasonal flu vaccination figures in 2020 were particularly high in the context of the first winter with the Covid-19 pandemic.
"There is a strong influenza epidemic every 10 years or so», Explained on the antenna of the public radio Jacques Battistoni, president of the union of general practitioners MG France. "This year, we saw a rebound"Colds and nasopharyngitis, so one might wonder"if the flu is not going to be strongerShe too, the doctor worried.
Read alsoFlu vaccination: "Let's learn from the Covid-19"
To date, the influenza epidemic has not yet started, with an incidence rate of influenza syndromes still low, at 39 cases per 100,000 inhabitants for the week of November 7 to 14, and no increase detected according to the network. Sentinels.
.