Shani becomes calm by worshiping this goddess tomorrow in Navratri, a special coincidence is being made on Saturday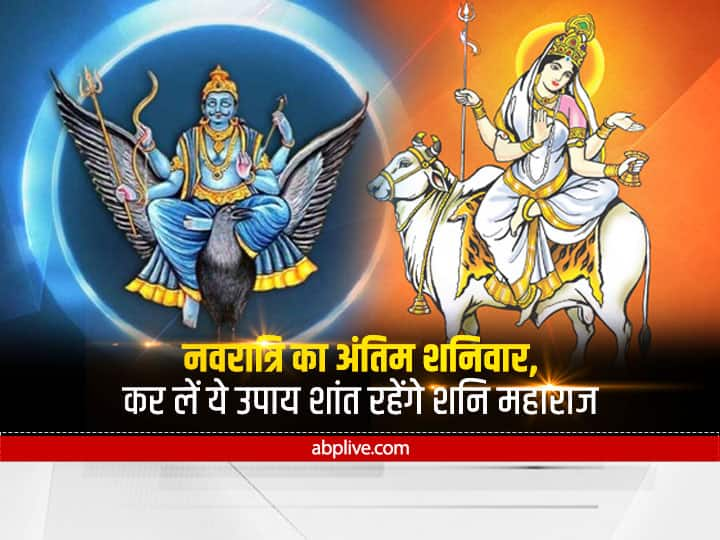 Chaitra Navratri 2022, Shani Dev : Navratri festival is going on. Tomorrow is special in many ways. This day is the eighth day of Navratri. That is, April 9 is the Ashtami date of Shukla Paksha of Chaitra month. The 8th day of Navratri is also known as Durga Ashtami.
'Navratra' started from Saturday itself
This time the festival of Navratri started from Saturday itself. According to the Panchang, April 2 was the Pratipada date of Shukla Paksha. The special thing is that the Hindu New Year has also started from this day. Vikram Samvat 2079 started from Saturday. Due to which the king of this year is Shani Dev. That is, the Hindu year is believed to be Shani dominant.
Yoga to pacify Shani on 9th April
According to the Panchang, April 9, Saturday is the Ashtami date of Chaitra Shukla. Maa Mahagauri is worshiped on this day. It is believed that worshiping Mahagauri pacifies Shani.
These are the remedies to pacify Shani
The eighth day of Navratri is considered the best to pacify Shani.
Mercury Transit 2022: The protector of businessmen 'Mercury' has arrived in Mars' zodiac 'Aries', know the predictions of these zodiac signs
Shani calms down with this mantra
This mantra of Maa Durga is said to be very effective. This mantra is called 'Navarna' mantra. Nirvana means 9 letters. There are 9 letters in the Narvana Mantra. Each letter of this mantra represents a planet. Chanting this mantra in Navratri is considered very auspicious. Apart from removing the inauspiciousness of the planet Saturn, this mantra also removes the inauspiciousness of all the other planets. This is Navarna Mantra-
'Aim Hreem Klein Chamundai Viche'
Numerology
Number 8 is considered as the number of Saturn. Ashtami date is on 9th April as well as Saturday is also falling. This is the reason why there is a special coincidence of worship of Shani Dev on the eighth day of Navratri.
donate to saturn
Saturday is dedicated to Shani Dev. Things related to Shani should be donated on this day. Shani Dev is pleased by donating mustard oil, black umbrella, black blanket, black shoe, black urad, iron etc.
Shani is angry
Shani is said to be a rule obeying deity. People who don't follow the rules. harass the weak. Do not respect those who work hard. Shani bestows them with bad results during their dasha, antardasha, sadhe sati and dhaiya.
Navratri Ashtami 2022: Tomorrow is the Ashtami of Navratri, 'Maha Gauri' will be worshipped, know the auspicious time and method of worship
Disclaimer: The information provided here is based on assumptions and information only. It is important to mention here that ABPLive.com does not endorse any kind of belief, information. Before applying any information or assumption, consult the concerned expert.
,