Six months after arrival, elephants from Uganda thrive in DRC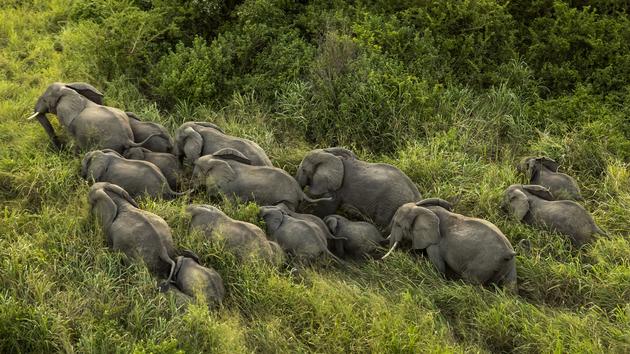 REPORT – The natural migration of 570 individuals has already transformed the Virunga National Park where they have found refuge.
What happened to the new residents of the Virunga National Park (PNVi)? Last December, an exclusive report from Figaro Magazine carried out in October showed the migration of the largest herd of elephants recently recorded on the African continent. Aerial photos where elephants numbered in the hundreds, walking in one direction. The 570 savannah elephant specimens (Loxodonta africana) had then left Queen Elizabeth Park in Uganda for Virunga Park in the Democratic Republic of the Congo. A journey of a hundred kilometers that they had not taken in such large numbers for half a century.
Read also :In the Democratic Republic of the Congo, the great return of elephants
Good news is rare in the world of conservation and Emmanuel de Merode, the eminent anthropologist and primatologist at the head of the management of the park since 2008, then welcomed the return of the pachyderms, seeing it as the accomplishment of the work. carried out for ten years by his men, often at the risk of their lives. Since
This article is for subscribers only. You have 85% left to discover.
Pushing back the limits of science is also freedom.
Continue reading your article for € 1 the first month
Already subscribed? Log in
.