Snow and ice warning in the Northeast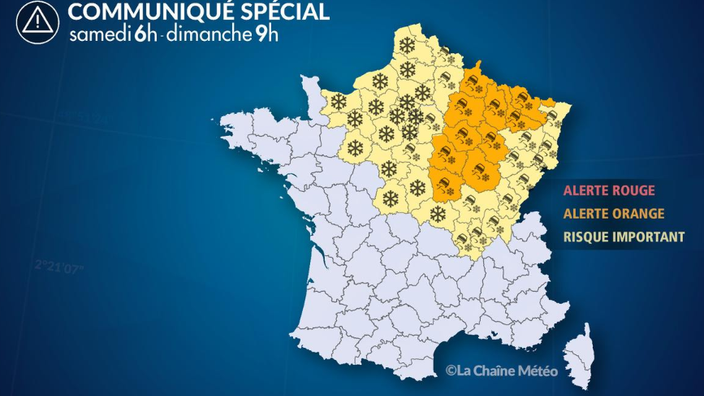 WEATHER – 10 departments are on orange alert.
The weather channel * placed this Friday, January 15, 10 departments in orange alert because of what it described as "remarkable snowfall". The Aube, the Ardennes, the Côte d'Or, the Marne, the Haute-Marne, the Meuse, the Meurthe-et-Moselle, the Moselle, the Nièvre and the Yonne are concerned.
The phenomenon is expected from Saturday January 16.
Read also :Traffic restrictions in the Grand Est due to snow
Météo-France is also forecasting snowfall from the north of the country – from the North, to the Ardennes, Ile-de-France and Burgundy – and has placed 26 departments on orange vigilance.
Here is the latest forecast:
Saturday morning, the disturbance will progress slowly towards Haute-Normandie, Pas-de-Calais and the west of the Paris basin. As it progresses, weakly negative temperatures will become weakly positive. The snow will remain sticky and could stick on the sectors most exposed to the south-westerly wind but also the highest. In the west of Ile-de-France, the snow will arrive between 10 a.m. and 11 a.m. before heading to the capital.
Saturday afternoon, the disturbance will continue its progression in the direction of the Ardennes, Champagne, the east of Ile-de-France then southwards, touching Burgundy and the Center region. It is mainly in these regions that the snowfall could be the most significant and make the traffic conditions sometimes difficult.
In the evening, the disturbance will begin to gradually lose its activity.
* The weather channel is a company of the Figaro group.
SEE ALSO – The Grand Est under 20 cm of snow, a first for fifteen years
.