SpaceX rocket to take four astronauts to international space station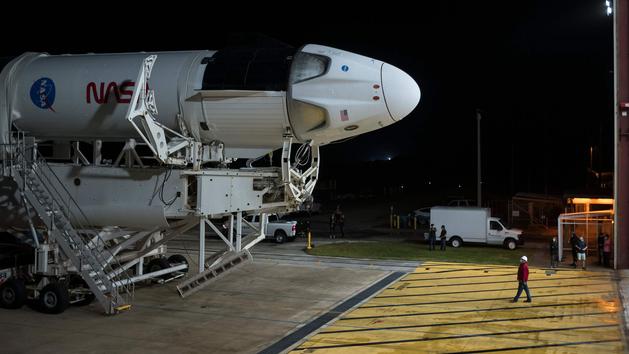 It is aboard a SpaceX Falcon 9 rocket bearing a large Nasa logo that four astronauts, three Americans and a Japanese, will take off towards the ISS, on the night of Sunday to Monday (Sunday 19:27 local time of Florida, Sunday, 1:27 am French time). The launch initially scheduled for Saturday was postponed to Sunday due to winds in the area, the NASA chief announced on Friday. The mission is historic, since it is the first crew of the International Space Station (ISS) who will not borrow a Soyuz rocket, since the withdrawal of the American space shuttles. Docking at the station is scheduled for around 8:30 a.m. after take-off, a little less than 6 orbits later.
Last May, the Crew Dragon capsule of the company founded by Elon Musk made its first manned flight, with two SpaceX astronauts for a qualification mission that had been perfectly successful. This time it is a fully operational mission, which will rotate the occupants of the ISS. The crew is made up of Americans Michael Hopkins, Victor Glover and Shannon Walker, and Japanese Soichi Noguchi.
"I am extremely proud to say that we are resuming the regular manned space flights launched from American territory, with an American rocket and spacecraft.", Rejoiced the head of NASA, Jim Bridenstine.
Thomas Pesquet's next ship
No Russian astronaut is present on board for this flight, but NASA and its Russian counterpart Roscosmos are negotiating an agreement for the next manned missions to be mixed, with a Russian aboard the Crew Dragon, and an American aboard Soyuz. "Having two completely independent vessels to do crew rotations is a huge advantage in ensuring the continuity of missions aboard the ISS, explains French ESA astronaut Jean-François Clervoy. If there is a problem with either system, the station could still be inhabited."
In about 6 months, French astronaut Thomas Pesquet will be part of the second crew that will take off from Florida to the ISS aboard Crew Dragon, with two Americans and a Japanese.
The big news for NASA is that the design of the rocket and the capsule was carried out entirely by SpaceX, and the space agency simply specified its needs. In the past, all American manned spacecraft had been built by the private sector, but to very precise specifications defined by NASA.
The other major innovation, which must come as a shock to all NASA astronaut pilots, is that the capsule is fully automated, and does not need to be flown.

Jean-Francois Clervoy
This new type of contract allowed rapid development, and allowed SpaceX to bring many innovations. Like the first stages of Falcon 9 rockets, the capsule is notably fully reusable. It does not have a classic disposable ejection tower which is only useful if the crew must be removed in the event of a serious problem, but has integrated motors, always ready to serve. "The other major innovation, which must come as a shock to all NASA astronaut pilots, is that the capsule is fully automated, and does not need to be flown.», Specifies Jean-François Clervoy.
In order not to put all its eggs in one basket, NASA also signed a contract with Boeing, but its Starliner capsule program was seriously delayed, in particular because of an automatic test flight which did not been far from a disaster.
.