Such special rakhis were prepared for children this year, gold and silver rakhis are in discussion in Gujarat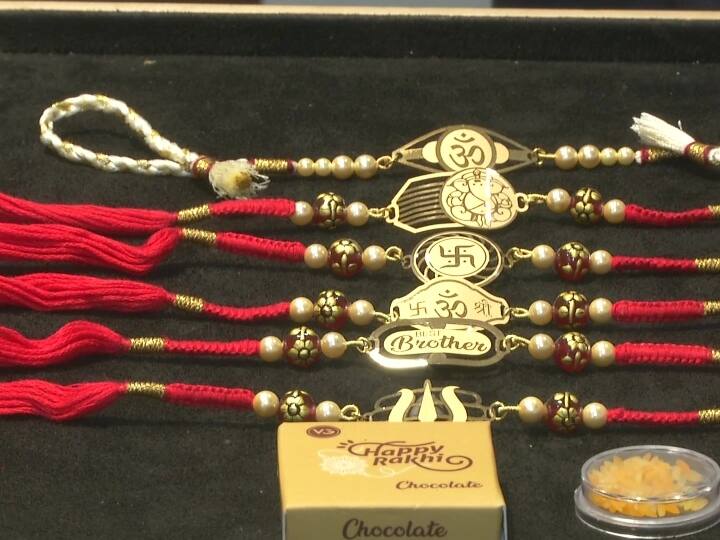 Rakhi festival will be celebrated across the country on 22nd August. Preparations are being made in this regard. The market has also started showing enthusiasm. With regard to Rakhi, jewelers have also started designing Rakhi. This year jewelers have also launched gold and silver rakhis in Rajkot, Gujarat.
Giving information, jeweler Siddharth Saholia said, "We are offering more than 50 designs in silver and 15 designs in gold. The weight of gold rakhis ranges between 1 gram and 1.5 gram. Silver rakhis cost 150 to 550 Rs. They hope that Rakhis made of gold and silver will sell well this time. At this time, different types of rakhis are being found in the markets for children as well. In general, only Rakhis with Chhota Bheem, Angry Birds, Doraeman, Light were available in the market for children. But this time the color of Rakhi has been changed by the artisans.
Gujarat: Jewelers launch gold & silver rakhis in Rajkot this year

"We're offering more than 50 designs in silver & 15 designs in gold segments. The weight of gold rakhis is between 1-gram & 1.5-gram. Silver rakhis cost Rs 150-Rs 550," jeweler Siddharth Saholiya said yesterday pic.twitter.com/dUDCkmW1a1

— ANI (@ANI) August 1, 2021
Different types of dishes will be seen on rakhis
This time, different types of dishes will also be seen on the rakhis. Children are very fond of fast food, so to woo them, manufacturers have introduced such rakhis in the market. There is a lot of demand for these rakhis too. This time, customized bracelet pattern rakhis adorned with Rudraksh are also being liked a lot. Rakhis with cartoon characters are being purchased for children. Along with this, the demand for Rakhi combo pack of brother-in-law and baby has increased a lot.
read this also :-
Corona vaccination: Amidst huge ups and downs, the country achieved the target for the month of July, UP beats Maharashtra
Sawan 2021: Today is the second Monday of Sawan, see how is the crowd in the temples?
.