Tanushree Dutta, who narrowly survived the accident, showed injury, jokingly said – thick skin did not let the bone break
Actress Tanushree Dutta recently met with an accident while going to the temple. When Tanushree Dutta was going to visit Ujjain Mahakal, she met with a big road accident, in which her leg was injured. In the shared video, she was seen walking limp. Now Tanushree Dutta has shared pictures of her injury. Tanushree Dutta has also got some stitches.
Tanushree Dutta shared these pictures on her Instagram account. Some of these pictures are those that the actress clicked in front of the Mahakal temple. Tanushree Dutta's leg is seen in one of these pictures. Sharing these pictures, Tanshree Dutta wrote, 'Today was very exciting. But finally reached for the darshan of Mahakal.

Tanushree further wrote in the post, 'While going to the temple, I had a scary accident. The brakes had failed. Thankfully only a few stitches saved my life…Jai Shree Mahakal.'

Tanushree Dutta Accident Video: Big road accident with Tanushree Dutta, car brake failed while going to Mahakal temple
Tanushree Dutta was seen limping in the video
Tanushree Dutta has also shared a video from inside the Mahakal temple, in which she is walking with a limp. By sharing the video, Tanushree has written that this was the first accident of her life, but it has further strengthened her faith.

Tanushree's joke – thick skin did not let the bone break
Tanushree Dutta also shared a selfie of herself in front of the Mahakal temple on her Instagram story and wrote on it, 'The thick layer of fat in my leg did not break my bone and did not allow anything to happen to the disc. My diet was changed for the last few months. Fat also has some benefits. Apart from looking cute.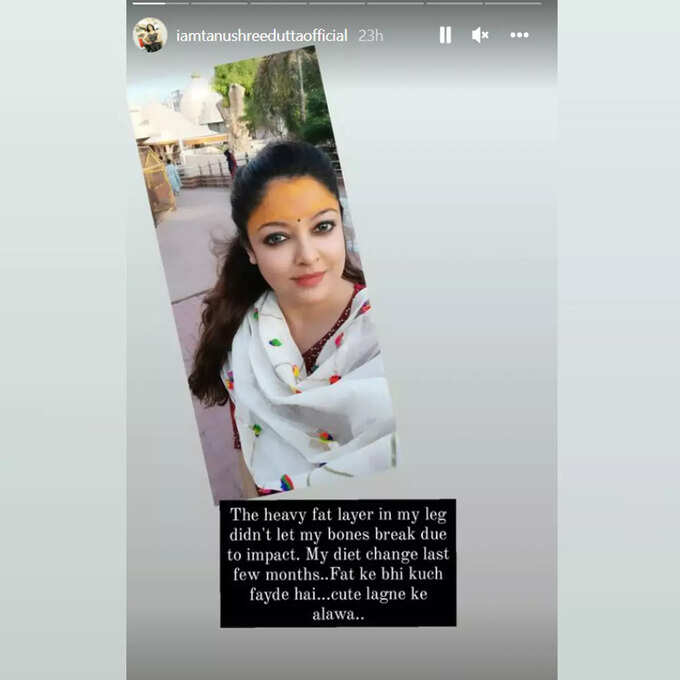 Tanushree Dutta said this on faith and belief
Apart from this, Tanushree Dutta has shared more pictures on Instagram Story, in which she has talked about her exes as well as Aastha. Tanushree said that nothing bad can happen to you on Sunday and Monday. Tanushree said that if something bad has happened to her these two days, then it has been good for her. It means that something good is about to happen. Tanushree wrote, 'Maybe God is trying to remove the bad thing from me first. I am very excited for tomorrow.

Away from acting for 12 years
Talking about the professional front, Tanushree Dutta has been away from acting for the last 12 years. She was last seen in the film 'Apartment' in 2010.
,