Taste and health will be healthy in winter, make and eat sesame laddus at home, know the recipe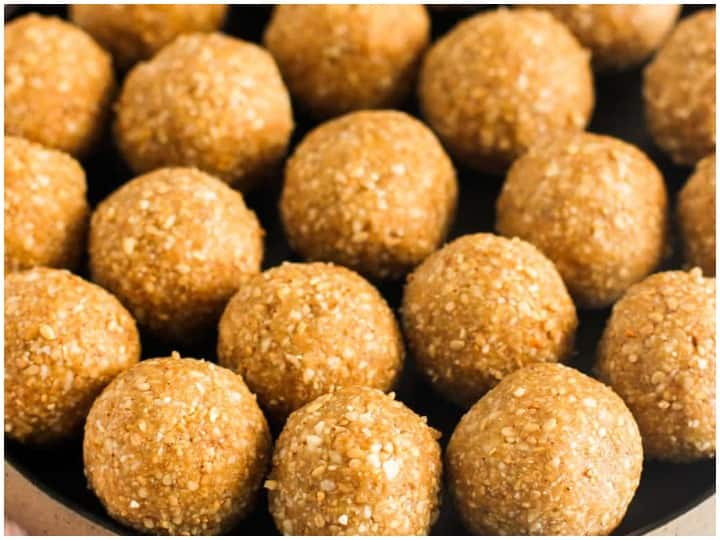 Til Ke Laddu Recipe: As soon as winter comes, I feel like eating something delicious. According to the season, there are such things which are available in the same season or feel like eating. As soon as it gets cold, one likes to eat Gajak, Sesame Ladoo or Revdi. It is very beneficial to eat things made of sesame in winter. Sesame seeds generate heat in the body and make bones healthy and strong. To enjoy the winter, you can make and eat sesame ladoos. It is very easy to make Sesame Ladoo. These laddus look very tasty to eat. Know the recipe.
Ingredients for Sesame Laddu
500 grams white sesame
500 grams mawa
500 grams boora
15 cashew nuts
4-5 cardamoms
Raisin
Sesame Laddu Recipe
1- To make Sesame Ladoo, first put it in a pan and lightly roast the sesame seeds.
2- You have to roast dry sesame seeds for about 5 minutes without ghee or oil.
3- Now take out the sesame in a plate and keep it to cool down.
4- Now put the mawa in the pan and fry it till it turns slightly brown.
5- Make a powder by peeling cardamom and cut cashew nuts into pieces.
6- Now put sesame in a mixer and grind it lightly. You have to keep it coarse, do not grind it very finely.
7- Now add ground sesame, roasted mawa and boora in a big vessel and mix.
8- In this mix cashew and cardamom powder and mix all the things well.
9- Now while making laddus, take a raisin in hand and keep making laddus.
10- Similarly prepare all the laddus. These laddus made of sesame and mawa are very tasty to eat in winters.
Also read: Kitchen Hacks: Try Sesame Ka Gajak To Keep Yourself Healthy In Cold Weather, Learn Easy Recipes
,