The black aluminum pan will shine in 10 minutes, no need to rub and rub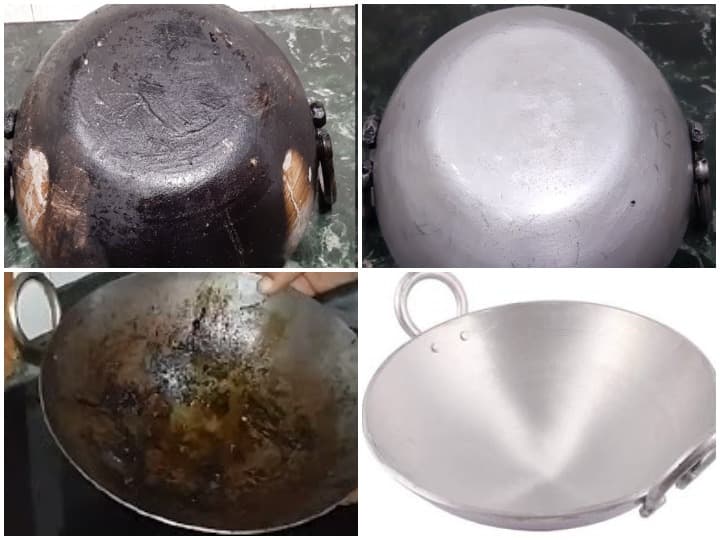 How To Clean Aluminum Kadhai: Kadhai is used the most while cooking food in the kitchen. Aluminum kadhai is used in most of the houses. Whether to cook vegetables, make pudding or make poori, the kadhai becomes quite black. For some people, the kadhai is permanently black. It does not even take courage to clean such a dirty and black kadhai, but now you do not have to worry. Today we are telling you a very easy way to clean the kadhai. With which you can make black kadhai shine like new. For this you will not even need to work hard or rub for hours. In just 10 minutes the embroidery will start shining like new. Know the trick to clean the kadhai.
1- First of all, put the pan on the gas and put 3 glasses of water in it.
2- Now add 2 teaspoons detergent powder and 1 teaspoon salt and the juice of 1 lemon in the water.
3- You have to boil this water for about 5 minutes. The boil should come to the top corners of the pan.
4- In this way the dirt in the corners of the embroidery will also be cleaned.
5- Now put the water of the pan in such a vessel in which the back side of the pan can be easily submerged.
6- Leave the pan in this way for about 15 minutes, due to which the dirt will swell.
7- Now mix 1 teaspoon baking soda and detergent powder.
8- Now with the help of sand paper or scrubber, clean the pan with baking soda and surf.
9- If there is still some blackness left in the pan, then heat that part of the pan on the gas and clean it in the same way.
10- Your old and black kadhai will start shining like new.
Also Read: Kitchen Hacks: Creamy Corn Spinach Recipe, Quickly Make Healthy & Tasty Vegetables
,