The incredible secrets of the decapitated mummy finally revealed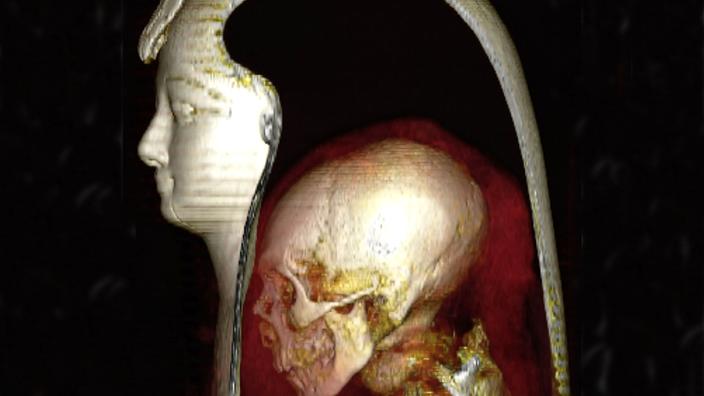 INFOGRAPHICS – Do you know the story of the mummy of Amenhotep I, beheaded by the tomb robbers and restored by the embalmers of the 21e dynasty? Thanks to tomography scanners, striking digital images reveal the hectic post-mortem life of this 35-year-old pharaoh.
A magnificent mummy has just revealed its mysteries thanks to the tomodensitometry, a non-invasive technique which allowed its digital exposure. Discovered in 1881, it had been concealed with other royal sarcophagi by the priests of the 21st dynasty (-1070 to -945) on the site of Deir el-Bahari, opposite the city of Luxor, to protect it from the looters of fallen down. It was one of the few mummies not to have been opened in modern times. Her great beauty had preserved her from outrage. Entirely covered with garlands of flowers, it was so beautiful that Gaston Maspero, the director of the Egyptian museum in Cairo at the beginning of the 20th century, decided to leave it intact.
Respecting its integrity, Egyptologists Sahar Saleem and Zahi Hawass of Cairo University scanned it in 2019 and have just published their results. The 3D images they obtained reveal the incredible secrets of Amenhotep I…
.