The last French turtles weakened by the fires of this summer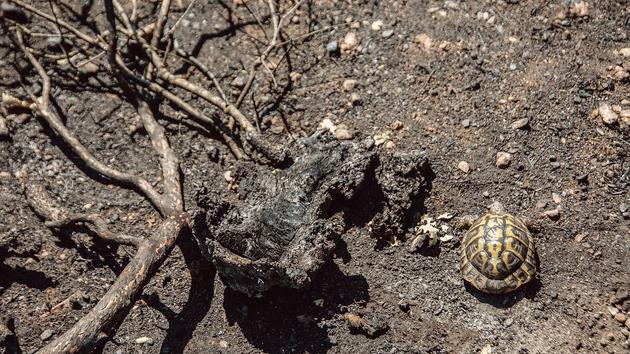 In the midst of the fire that ravaged the Maures plain in the Var, several Hermann tortoises, an endangered species, were caught in the flames.
Nice
Already listed on the IUCN red list of threatened species, Hermann's tortoise, the only French land turtle to live in the wild, saw one of its last viable habitats go up in smoke on August 16 in the fire that ravaged the Var. The Plaine des Maures nature reserve, created in 2009 to protect it, was burned down over two-thirds of its 5,000 hectares.
Read alsoAfter the fire, the Moors want to rise from their ashes
When she came on August 24, the Secretary of State for Biodiversity, Bérangère Abba, estimated the survival rate of individuals at 60%, based on the examination of a first sample. "I would rather tend to say that only 40% survived, but we have to wait for more precise counts to decide", indicates eight days later Franck Bonin, the director of the Village des tortues, in Carnoules (Var), where about thirty specimens are treated, survivors of the fire.
Each recovered animal is assigned GPS coordinates, so as to reintroduce it, when the time comes, into its habitat.
This article is for subscribers only. You have 74% left to discover.
Pushing back the limits of science is also freedom.
Continue reading your article for € 1 the first month
Already subscribed? Log in
.